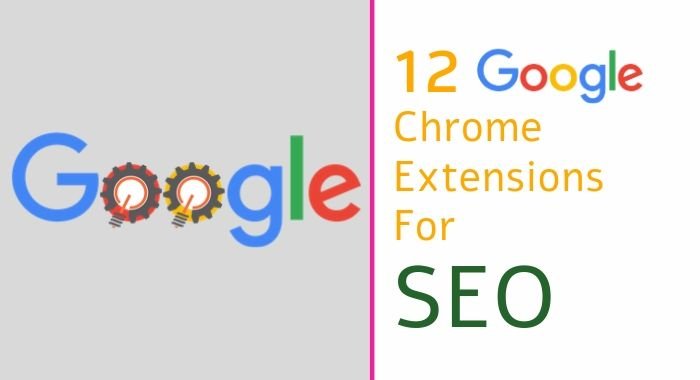 Lack of information can harm you in many different ways. The same rules apply to us when I talk about the 12 best Google Chrome extensions for SEO.
You might be thinking about how the lack of information and Google Chrome Extensions are connected. 
Let me explain this with this simple example:
We can't deny that many people purchases software which you can get easily if you know how to get it for free. 
The first way is by using torrent which is illegal and at times not safe.
I won't recommend that to anyone for sure!!!
The second way is, get a useful extension on google stores for free. Yes, useful extensions for unlimited use without paying any single bucks.
12 Google Chrome Extensions for SEO Purpose in 2023
Choosing a Google Chromes extensions saves your money and provides a lot of information (if you know how to use an extension) which is enough for the beginner.
But the word "Website" changes the whole metrics and t's relates more to developing a website, analyze and optimizing it. 
I have considered all the important fact which tells you which chrome extensions you must-have for your website and why?
SEOquake: SEOquake is one of the best chrome extensions

. 
          SEOquake has numerous key features and some of them are as follows:
Analyze any website Alexa ranking and SEMrush ranking.

You can see how many times Google and Bing indexed a website.

Age of the domain through web archive.

Back Link Analyzer

Url Comparision

Keyword Density

Display Advertising

Page Info

Diagnosis

Internal & External Linking
MOZ Bar: MOZ Bar is a very useful extension to analyze a website that can be yours or can be your competitors. You can easily analyze Domain Authority, Page Authority, Page, Highlight links, and many more. 
BuzzSumo:

BuzzSumo is one of the best content marketing tools by which you can easily search popular and trending content over any topic.
You get some good amount of benefits like:
You can check Social Shares of a content

Content is sharable or not.

Can analyze competitors easily.

Includes Facebook and Twitter Share.
Page Analytics by Google:

A great tool to identify user interaction with your website. You can identify all their movement with just one click simple tool. By Page Analytics you can get several useful pieces of information like:
Real-Time user click on your website

Numbers of active users

Find total page views.

Daily unique page view

Avg. time spent on a page 

Bounce rate, etc.
Mangools:

If you want to do a quick SEO analysis then Mangools is a powerful tool that is built to perform such a task. You get the important data by using this using a single tool without adding other tools like KWFinder, SERPChecker, etc. Here are some benefits of Mangools chrome extension:
Check Domain and Page Authority

Use for Backlink Analysis

On-Page SEO Data

Rank Tracking
Serpstat: SERPStat is all one SEO tool and has numerous benefits which are as follows:
Keyword Research

Rank Tracking'

Backlink Analysis

Site Audit

Complete Analysis of Competitors

Domain Visibility

Traffic

Meta Tags

Top keywords of your website, etc.
Ninja Outreach:

Ninja Outreach is a powerful tool that is used to extract useful data from any website. This data includes the following things:
Full Name

User Location

Social Media Followers Counts

Email Address

Phone Numer

Alexa Ranking

Backlinks

Page Authority 

Domain Authority

Average Visit Per Month and more.
Grammarly: A well-written content on the website always perform better and also gain more attention from people. Nobody likes content that is full of errors and spelling mistakes. Grammarly works on a real-time basis and rectifies all your mistakes, So you can easily correct them. Also, the Use of Grammarly Coupon Code gives a huge discount of up to 75% if you want full access to this extension.
The easy access and graphic interface of this extension made it popular all around the world.
HOXX: HOXX is free to use a VPN Chrome extension.

Through HOXX you can access various websites that might not be available in your local area due to various restrictions.  VPN creates a secure tunnel of data transmission by which you can easily access a website that is not available in your country. 
HOXX free extension provides you with a list of countries in which you can select and hide your IP address and take benefit of VPN services like checking your keyword ranking on a particular location. 
Tag Assistant (By Google):

Having a problem while installing Google Analytics,

Adwords Conversion Tracking, and other tags on your website? 
Tag Assistant helps you to find new tags, errors in current tags and reports and also helps you to improve the current tags of your websites.
LightHouse:

LightHouse extension (open-source software) helps you to improve your website performance, web page quality, and correct your website.
When we do auditing of a website/web page, LightHouse analyzes and then made all the reports of website performance. 
LastPass:

Many people face problems while remembering the user and password combo when they need it. The reason is that they made a strong password and after some time they forget that. 
I also experience the same thing!!!
Now you can make a harder password without worry to forget it. LastPass helps you to store your password and use it whenever you need it. 
It really helpful while doing the off-page SEO of the website because you don't have to worry about remember the username and password all the time.
Conclusion
The use of these 12 Best Google Chrome extensions for SEO will help you to save your money. I always prefer to work smarter because it saves time and money too. 
Is there any Google Chrome extension that I didn't mention and that should be on this list? Tell me which one you are already using and which one you are going to use.