What is Hostgator Cpanel?
Cpanel is founded by John Nick Koston in 1996. It is used for LAMP( Linux, Apache, MySQL, PHP) and it is mainly used for Linux based operating system. Cpanel (Control Panel) is provided by different web hosting companies to the website owner so that they can control or manage their website from the web interface. Simply, Cpanel is managing the website from the website interface. It not only manages the administrative aspects but also controls the technical side of web hosting. Hostgator is one of the biggest sites for web hosting. It provides the best web hosting services. Hostgator Cpanel serves a variety of features and it is very easy to use. The company offers Free Cpanel in their hosting services.
HostGator 60 Off Coupon Code
Grab limited time offers of HostGator 60 Off coupon code to get its hosting with 60% discount
What are the uses of Hostgator Cpanel?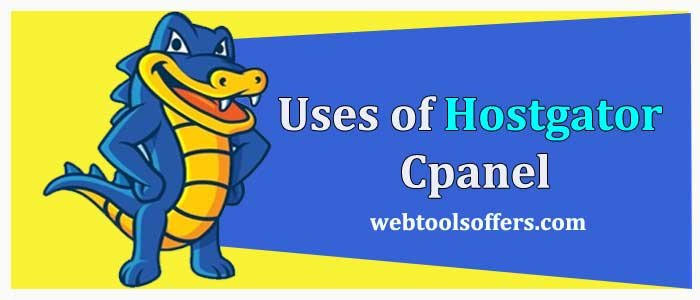 Cpanel offers 3 Email types, that are RoundCube, Horde, Squirrel
There is a simple button to back up your entire website.
You can manage your data very securely and safely.
Cpanel checks the status of your website like the traffic.
Manage your account's usage of resources like Bandwidth, Disk space storage.
It also Installs the SSL certificates for your website.
Cpanel manages all the files by using the name built-in file manager.
You can remove your Domain name from your Hosting account.
How to log in to Hostgator Cpanel?
Hostgator is one of the largest companies for purchasing hosting, domain and another website requirement. If you have purchased hosting from Hostgator then you will receive an email where all the details regarding your new hosting accounts are mentioned. You will also get Hostgator Cpanel webmail account login details and information about the name server.
You will get access to your panel with an IP address before migrating the domain to Hostgator's nameservers. That IP address looks like http://1.2.3.4/cpanel or http://1.2.3.4/1086/ (1086 is the Cpanel common port). After the domain, nameservers update setting to point to Hostgator nameserver's you will get direct login via http://mydomain.com/cpanel. The login details( username and password) is mentioned in that email. This is the process to login in the Hostgator Cpanel.
Ins and Outs
After login in Cpanel let see what is the functions does the Cpanel has and what it performs.
File manager: Here you will manage all the files of the Hostgator 's servers. The File manager contains Directory Privacy (allows to manage permissions from all directories in your hosting account), FTP related options (helps to delete modify files in your server without login in panel), Cpanel backup options ( backup of the entire website), Image (convert scale and create thumbnails), Disk usage (shows amount of disk space you are using or amount of space that is left according to your hosting plans).
Databases: As the name suggests it deals with the MySQL database which performs the task on your database like (create, edit, delete, etc).
Manage Domains: You can add additional domain by Addon domain and you can choose sub-domain by Subdomain options
Managing Email account: There is an email option that will create an email for your domains and log in to those emails to view. Hostgator Cpanel also deals with spam-handling via Apache spam Assassin.
Manage your's website Traffic: In this, it will help you to manage raw traffic, bandwidth, usage, etc.
Increasing Security: Hostgator Cpanel contains a bunch of security services to your It offers SSH Access, SS and TLS module.
One-Click Installs: There is an option of Quick-install which provides installation in one click. You can install many things in just a click.
Advanced Settings: There is a MIME type that allows managing the various extensions (.jpg, .png, .pdf, etc) or check whether this is uploaded to your server or not.