How to Install a KnownHost SSL Certificate?
Knownhost offers you SSL Certificate to secure your website. But before using SSL you must know about it in detail about SSL and How to install KnownHost SSL Certificate. With the help of easy steps, you can install SSL to secure all the information of your users and website. The SSL certificate will help you to keep all the information safe from hackers. When you decide to install SSL in Knownhost then here comes the different methods. Before knowing about it lets read what is SSL and what are its benefits.
What is SSL and what are its benefits?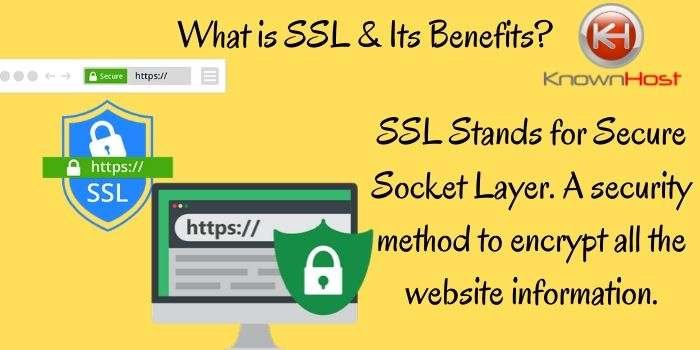 Before using the services of Knownhost SSL lets know about SSL and its benefits.
SSL stands for Secure Socket Layer. This one is a security method that allows for the encryption of all data and files that transferred between the server. If you are secure your website with SSL Certificate then all the details are safe & secure. SSL helps you in protecting all card detail, passwords & username, social security numbers, and many more.
Benefits of SSL Certificate
If you own a website or a blog you need an SSL certificate. SSL has multiple benefits to let's know about them.
SSL Protects confidential Data
SSL Affirms your identity
Better Search engine Ranking
SSL improves your customer trust
Let's move on and know about how to install the KnownHost SSL Certificate?
Also, Read… Knownhost Hosting Review
Steps to install SSL Certificate
If you want to use and SSL with the services of Knownhost then this read is going to be very beneficial for you, With the help of this content, you can easily issue an SSL certificate to secure a website from hackers. Follow the instructions mention below and use the services of the KnownHost SSL Certificate.
Install Using Token
If you want to use the services of SSL certificate with KnownHost services the follow the mention steps and use it now.
Log in to your Knownhost Cpanel through (https://my.knownhost.com
To get a token click on the manage button then click on the certificate Detail. Manage> certificate detail on the left side you will get SSL Token.
Note:- Use KnownHost Coupon purchase SSL Certificate then Token emailed to you.
Put your token key in the taken section and click verify Token
Once you submit a token then you will receive step to step guide to set up SSL.
Install The SSL from Cpanel
If you are operating your site from Cpanel then you can easily install an SSL through it.
Login to your KnownHost Cpanel
Find the SSL/TLS button under the Security section.
Follow the link upload and save all the details related to the certificate.
Install Using Certificates Files
While using the services of Know host you will get both Direct Admin and Cpanel/WHM. Here you will get to know about how to add an SSL with the help of DirectAdmin.
Login to DirectAdmin Cpanel Then click on the Account manager and select SSL Certificate.
Image Certificates Files
Cpanel> Account Manager> SSL Certificate
Find an SSL Certificate in the Evolution Icon Section and click on it.
Image Click on SSL Certificate
Once you click on it you will find different choice s to add SSL Certificate.
Let's Encrypt
Paste pre-generated
Certificate Request
Self Signed
If you are having a key then choose "Paste pre-generated" box
Paste the key in the box and certificate in the below box and click on the "Save" button.
Image Paste Key & click Save
This one is the easiest way to add an SSL Certificate on your website. Easily add an SSL certificate and make your website more trustworthy for all the users.
Conclusion:- How to Install Knownhost SSL Certificate?
With the help of the above-mentioned step, you can easily install SSL. With the help of an SSL certificate, you can secure all the data and files at a safe place. Follow the mentioned steps and secure your website from hackers.