The freelancing world started taking place rapidly in employees when the benefits of freelancing became more than corporate sectors. If we only talk about the US, more than 20% of the population are doing freelancing as a full-time job or part-time job for extra income. Time by time when the numbers of freelancing websites are increasing then it is affecting the total freelancer's population too. Today, there are many different freelancing platforms, in which Fiverr is very popular among freelancers. It's not like Fiverr is a complete perfect platform without any problem. If you read reviews of some top experts then you will clearly find the pros and cons of using Fiverr. Whether it contains some disadvantages, there are some advantages too that you can obtain using Fiverr.
Basically a freelancing platform provides the basic feature to contact sellers and buyers, so they can make a deal easily with security. It's a basic concept of the freelancing platform but the pros of different platforms make them differ from each other. In this article, we will discuss Fiverr advantages and disadvantages that most freelancers definitely want to know.
Pros and Cons of Fiverr That You Probably Don't Know
Fiverr had gained a huge freelancing community in a short period because of its unique features. From the starting phase, Fiverr has been providing high money security for buyers, so the buyers can be secure from scams that are quite happening to other freelancing websites. Instead of these security features, there are some common problems that also do exist that are slowing down the performance of Fiverr popularity. Let's discuss the Pros and cons of hiring freelancers that happen at Fiverr.
Pros of Using Fiverr for the Users
Affordable Service
Various Freelancers
Best Customer Support
Variety of Projects
Extra Money
Easy to Use Interface
Negative Reviews
Affordable Service
At Fiverr, all the categories projects start as low as $5 and there's a limit for the highest price of projects. For a buyer, it's a best opportunity to get their work done at the lowest price, which is very beneficial for the buyers in different ways. It not only helps you to save more money but also your more work is done under the lowest amount. This affordable service is one of the main reasons why Fiverr is liked by so many people.



Various Freelancers
Availability of different freelancers helps buyers to get a better service under the lowest amount. At Fiverr, you can find experts and beginners freelancers, which are experts in their field. You can clearly compare the services of different freelancers by looking at their gig and ratings. Various freelancers give a different stand to Fiverr, from any other freelancing websites.
Best Customer Support For Buyers
While using a platform many users face a lot of different problems daily that need to be solved. But when we talk about freelancing websites then all the situation changes completely. At many other freelancing platforms, many buyers face scam of not providing the exact services which are promised by the seller. But Fiverr provides the best customer support for buyers so they can contact the technical staff whenever they need.
Variety of Projects
The Freelancers community is not limited to a particular field. It's a broad field where you can get different varieties of projects related to different fields. Apps, websites, videos, music, graphic and many more fields are available for the sellers and buyers at Fiverr freelancing websites. More than 10,000 different projects are available at Fiverr platform that relates to different categories.
Extra Money
It's true that many people do freelancing as a professional full-time job. Still, there's a big percentage of freelancers who work as part-time freelancing to gain extra money. As you know that a small project at Fiverr is available at the minimum cost of $5, so the freelancer can earn money as per their need.
Easy to Use Interface
Fiverr provides an easy to use freelancing platform to all the sellers and buyers, so they can complete their work without wasting time. It's not like that most freelancing websites do not offer user-friendly interfaces but there are some platforms that also exist that have a complicated interface.
Negative Reviews
If you have experienced a freelancer life before then you are probably aware of work scamming that is done by most beginners and experts too. At some websites, the seller promises a lot of things with the buyers but when they get the project, most features are not provided to the buyers. This situation is completely unfair, and the platform should ban those users. Fiverr freelancing platform offers negative review features to the buyers, so when they become a victim of such scam then they can post bad reviews. Doing this will warn other buyers to not take services from that seller. Also, the buyer can file a case at customers support against the seller and the team will take the quick action.
Cons of Using Fiverr for the Users
Quality Service demands High Charges
Frustrating Deadlines
Fraud Sellers
High Charges
Difficult for Beginners
Hard to Make Constant Money
Quality Service demands High charges
Pros and cons of Buying Services from Fiverr take a turn when we talk about the disadvantages of Fiverr platform. If you look carefully then you will find that at Fiverr the seller categories are per their rank. The rank shows their work quality and also some more benefits to the buyers. But to get quality service from the expert sellers, you also have to pay a good amount too. Many new users complain about this feature. Because of this feature expert sellers are making high money where a beginner only makes low amounts.
Frustrating Deadlines
As we know that there is an option available for the seller where they can limit the number of getting projects. But most sellers do not use this feature and take more projects at a time. Because of this, the sellers increase the timing of a service that normally takes a few hours. Now it will take 3-4 days and if you want your work faster then you have to pay more for this. This feature is really annoying for those users or buyers who want their work done within time limit.
Fraud Sellers
It's true that Fiverr provides so many features to the buyers to make it a scam proof platform. But scammers are some of the things that cannot be removed easily. At Fiverr a small number of fraud sellers exist who take the projects by making the best gigs. But after taking projects the seller provides a low-class service to the buyer. After facing this situation buyers feel like being cheated that also affects the reputation of Fiverr freelancing platform.
High Charges
Do not fool after looking at the plans that cost $5 because you won't get the best services under that rate. Most services that usually people admire costs higher at starts as low as $30, which is not pocket friendly at all. So, if you are a beginner and want a job done by the seller then before heading to the request please confirm the services and feature to not regret later.
Difficult For Beginners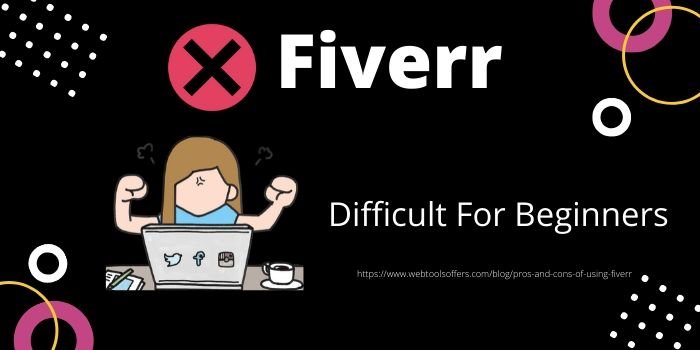 Fiverr freelancing platform is not like the same as it was before. Before the update of the website, it was very easy for every single user. But after the update, the platform is a little bit confusing for the beginners. Before updating, the sellers can easily see the buyers projects and can contact directly. But now it has changed to a switch button that most beginners do not know. It is one of the biggest disadvantages for the beginners of using Fiverr.
Hard to Make constant money
For the experts, its very easy to say that freelancing websites are very good to make constant money. But in reality, the truth is bitter and very harsh too. A beginner faces a lot of problems when he starts his freelancing job and the struggle keeps going for many years. The same concept goes with Fiverr too where it is hard to make constant money for beginners.
Conclusion
Whether it's a matter of security of buyers or the comfort of sellers, Fiverr works so hard to provide quality service to its users which many freelancing websites are struggling with. In this review, we had talked about the pros and cons of using Fiverr freelancing platform. After reading this you probably know the best reason why you should choose or lose this as per your need. Let me know your opinion about these matters in the comment section.