Elements & Parts Of MS Word Window [Know all Components]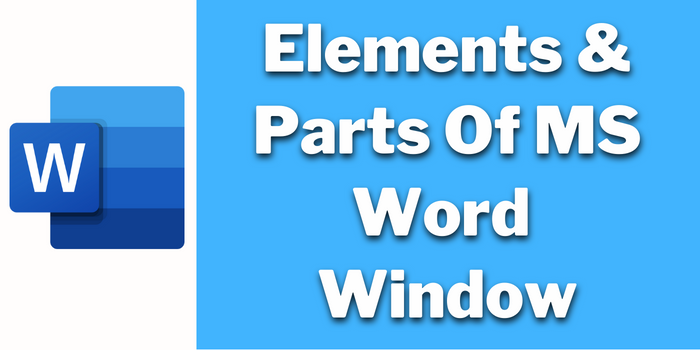 Wanna know all the significant elements & parts of MS Word Window, then don't look anywhere else. Here we will be discussing Microsoft Word version 16.0 elements & parts. 
To use MS Word properly and effectively you must understand its component in order to maximize productivity. Hence here we will provide all the parts and elements of Microsoft Word Windows one by one. So let's get started without wasting any time.
What Are Elements & Parts Of MS Word Window?
Here we have mentioned the parts and elements of MS Word Window you can go through them below.
Title Bar
Ribbon
Quick Access Toolbar
Document Area
Status Bar
Menu Bar
Dialog Box Launcher
Zoom Slider
Note that parts and components of MS Word Window are the same thing don't get confused between them.
Explanation Of Basic Parts & Elements Of MS Word Window
There are multiple parts & components of MS Word Windows version 16.0. Hence we have mentioned them below for your better understanding. Now let's discuss them one by one.
Title Bar
In the MS Word Window component title bar is an important elements & parts which shows the name of the document & program you are currently operating on. The title bar includes controls such as Minimize, Maximize, and Close buttons. It also displays the Quick Access Toolbar and a customizable toolbar for frequently used commands.
Ribbon
The Ribbon in MS Word element is a collection of tabs & groups that contains various commands which are essential for creating and editing documents. It provides quick access to these commands, which are organized by category for ease of use.
The Ribbon is an important tool as it helps users in navigating MS Word efficiently & completes the task effectively within the time limit.
Quick Access Toolbar
The Quick Access Toolbar is also an elements & parts of MS Word Window. It is a small customizable toolbar located at the top left corner of the Word window. The purpose of Microsoft word is to provide quick access to frequently used commands, functions, and options present in MS Word.
It has also a few default buttons such as Save, Undo, and Redo, but you can easily customize it according to your preference. I hope you might have understood the Quick Access Toolbar importance as it is also a components of MS Word Window.
Document Area
Document Area is the main & major part of MS Word Windows element as it is where you create, edit, and format your document. In the document area, you can type your text, insert images, tables, etc.
You can even format and edit text by changing the font style, size, color, and alignment. Moreover, you can also add page numbers, headers and footers, and other design elements to make your document look more polished and organized.
Status Bar
Another one in the category of Elements & Parts of MS Word Window is Status Bar. It is located at the bottom of the Microsoft Word Windows in a horizontal line. The Status Bar provides different information such as the current page number, the total number of pages, word count, and zoom percentage.
With the help of the Status Bar, you can effortlessly change between different viewing modes like Print Layout, Full Screen, and Web Layout by clicking on the corresponding buttons in the Status Bar.
Overall, the Status Bar in Microsoft Word version 16.0 is a useful tool that provides basic info about your document and easy access tools and features.
Menu Bar
The Menu Bar is an important element of MS Word Window which is located at the top of the app window. Menu Bar provides multiple menus & commands through which you can use Microsoft Word easily along with Document Area, Scroll Bars, Ribbon, etc.
Basically, they work together in such a way as to provide you with a range of features to create professional documents. By working in a team with the other components of MS Word window, the Menu Bar provides a broad range of tools for creating and editing documents.
Dialog Box Launcher
On MS Word Window you can configure different elements such as font colors, styles, sizes, page margins, layout options, and orientation with the help of Dialog Box Launcher.
Dialog Box Launcher is the arrow in the bottom right-hand corner of some groups in the ribbon area. To configure, click on the Dialog Box Launcher, it will open up a dialog box where you can do those editings mentioned above.
The Dialog Box Launcher is one of the best elements and parts of MS Word Windows that makes it more manageable for users to create & customize professional-looking documents.
Zoom Slider
With the Zoom Slider option, you can increase and decrease the magnification level of your document present on the screen. To use it simply drag the slider from left to right by tapping on the "+" plus or "-" minus buttons present on the interface.
The Zoom Slider is a useful tool in elements & parts of MS Word as it helps customize the document's magnification level for better readability and editing.
What Is The Latest Feature Of MS Word Windows Version 2021?
MS 2021 is the next & latest version of Microsoft Office and the upgraded features are mentioned below.
Visual Refresh
Improved Auto Save Changes
Dark Mode
Co-authoring
Improved Comprehension Line Focus
Accessibility Checker
Microsoft Search
Performance Improvements
Updated Draw Tab
Supports OpenDocument Format (ODF)
Style Your New Colour
Above mentioned are the current features of Microsoft Word version 2021. In addition to that, upgrading from MS Word 2019 to MS Word 2021 will provide you with much better elements & parts of MS Word Window. Although don't worry about the older features, you will find them too with the new feature as well.
What Are The 3 Main Components Of MS Word Window?
The 3 main components of MS Word Window are the Ribbon, Document area, and Status bar. The Ribbon is also elements of MS Word Window which contain multiple command groups.
On the other hand, the Document area is the major components of MS Word Window where you can write, edit & view your document. Lastly, the Status Bar shows the current page number, language, word count, etc.
How Many Parts Of MS Word Window In Version 2021?
There are 8 major components, elements & parts of MS Word Window version 2021. Functions such as Title Bar, Ribbon, Quick Access Toolbar, Document Area, Status Bar, Scroll Bars, Navigation Bars, and Backstage View.
What Are The Advantages Of Microsoft MS Word Windows?
Advantages of MS Word Windows like extensive formatting options, a user-friendly interface, collaboration with other MS applications, and a wide range of templates.
Also Read,