All

Deals

Coupons

Sales

Expired
About Interserver
InterServer is a Secaucus, New Jersey-based company that was founded in 1996. It is a hosting company with a solid reputation for providing reliable hosting service and skilled technical support to its users. InterServer has four data centers in the US (United States). They provide excellent coverage in North America. The data centers are staffed very skilled as well as security guard 24/7/365 days a year.
Why Choose Interserver as Web Hosting Provider?
Interserver is one of the best budget-friendly web hosting providers all over the world. Interserver web hosting is all about quality. The company offers qualitative web services in a very affordable range. There are certain reasons which specify that why you should choose them as a Web hosting provider:
Interserver offers pocket-friendly web services.
The company also offers a money-back guarantee. Interserver provides a 15-30 days money-back guarantee.
Unlike the other reputed web hosting provider, Interserver has a fixed price on its hosting services. The company does not charge high Renewal Cost.
There are many web hosting providers which offer free Domain name with its Hosting packages. Interserver also offers a free domain name with its hosting plans. However, you will also get a domain name at a discounted rate.
With Interserver you can host several websites and also it claims never to overload the servers.
Interserver offers Unlimited Free SSL Certificates for all your free domain names.
You will also get automatic free weekly backup with Interserver web hosting services.
Also read,
What type of features you will find in InterServer services?
Free migration service- They offer free migration service to their customers. You can easily transfer your website hosted anywhere, onto their InterServer account within less time. You don't need to worry about anything the staff will manage the migration process gently and carefully. No matter what control panel and account access you have on the old host. They provide you 24/7 support service.
Price lock up guarantees- Price lock up guarantee means the price of your services at sign-up will never change in the future.
Domain registration at $1.99- You can register or transfer the domain name for $ 1.99 with the purchase of any web hosting services.  
Easy to use control panel- Interserver offers easy to use control panel. If you are having a problem with maintaining your website. So, it will provide you a Linux-based control panel that gets rid of the problem you may have on your website.
What type of hosting plans and pricing provided by InterServer?
One of the biggest benefits of using InterServer service is that: the amount you have agreed at the time of signing up is the price you will continue to pay during the lifetime of the contract. As long as you are not adjusting your plan, you expect a constant fee for your web hosting needs. You can also use Interserver Coupon Code 2023 to reduce the cost of purchase with the company.
8 type of hosting is provided by InterServer
InterServer is a well-known web hosting service provider, the hosting type they provide are as follows: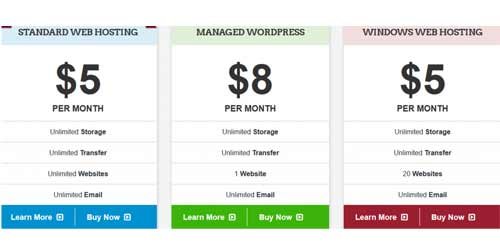 Cloud Hosting
Virtual private server(VPS)
Dedicated Hosting
Shared Hosting
Colocation Hosting
Reseller Hosting
Quick server Hosting
Custom Hosting
With these amazing hosting services the company offers Interserver Hosting Coupon Code to reduce your cost of purchase on hosting. At our platform, you will get the discounted coupon code and promo code which will help you to get hosting services at a low cost.
What is Interserver Cloud Hosting?
Cloud hosting is a type of hosting that stores data across many different web servers in the cloud comparatively single server or dedicated server. It is a good choice for small businesses that may need to grow up faster and quicker.
What is Interserver VPS (Virtual Private Server)?
Interserver Cloud VPS Server is a hosting that divides the large numbers of a server in a small virtual server which each acts as an independent environment. It may be similar to shared hosting but with this hosting, you have a limited amount of resources dedicated to your needs.
What is Interserver Dedicated hosting?
Dedicated hosting is a server in which the server is devoted to a single organization or for a single purpose, such as a website. In InterServer you can choose any flavor of an operating system like Linux, UNIX, and Windows.
Interserver provides you 5IP addresses, 100 GB or 1Gb port, a Transfer rate of 10 TB, 24/7 uptime managing support, and Data migration.
You can get these ultra benefits at a very low cost by using Interserver Dedicated Server Coupon Code. This will reduce your cost of purchase of dedicated hosting with the company.
What is Interserver Shared Hosting?
Shared hosting is a hosting in which multiple websites use a single server, each having its own internet domain name. It is a less expensive way to create your website.
If you want to choose a basic shared hosting plan. You may choose from these three options. It includes unlimited storage, transfer, and e-mails.
Standard Plan: This plan is a good choice for you if you are just getting started or if you have light traffic.
Window/ASP.Net: This also works as a standard plan, but the servers run Microsoft products rather than open-source/Linux based software.
WordPress: This plan is for those who want to host a WordPress site. It is just similar to the other shared plan but it includes some other features like version control, anti-virus protection, and daily backups.
With these affordable plan package, you can also use Interserver Shared Hosting Coupons to get maximum discounts. By using these coupons you will get hosting plans with an extra discount.
What is Interserver Colocation Hosting?
Colocation is a data center facility in which businesses can rent space for servers and other computing hardware. Interserver offers a colocation plan for those who want flexibility, power, and performance in the there dedicated plan while also having control over your infrastructure. It provides power, bandwidth, and physical security while the customers provide customers and storage.
 What is Interserver Reseller web hosting?
IT is a type of hosting in which the account owner has the ability to use their allotted hard drive space and bandwidth to host a website on the behalf of third parties. InterServer provides this reseller web hosting in five different plans. The difference between the packages is the amount of disk space is allotted to the amount of maximum bandwidth you and your affiliates are using.
What are the benefits of the price lock guarantee provided by InterServer?
There are many numbers of benefits of a price lock guarantee for your small scale business or mid-size company; no need to worry about getting the best deals, price stability, and effective budgeting.
One-Click Installation of Cloud Apps - Interserver
There are around 484apps available for One-Click Installsby Interserver. these are as follows:
Blogs: There are several blogging platforms are offered by Interserver which includes WordPress, Pubvana, Pixie, Pebble, and many more.
CMS: CMS stands for Content Management System. There are many CMS tools offered by Interserver. for example- Joomla, Drupal 7, and many more.
Ecommerce: Interserver provides e-commerce websites like Magento, Opencart, Litecart, and many more.
Forum: The forums site provides phpBB, SMF, MyBB, PunBB, and many other forum sites.
Social networking: In the social networking category it offers Oxwal, Dolphin, Etano, and others.
Educational: Inetrserver also offers Educational platforms like Chamilo, eFront, Moodle, & others.
Erp: In Erp, it provides Dolibar, SugarCRM, Zurmo, and others.
Framework: Interserver provides frameworks like DIY, Ulkit, Symfony, etc.
Video: In the category of Video it deals with Clipbucket, Vidiscript, and Cumulusclip.
Admanager: The ad-manager includes Y class, OSClass, Revive Adserver, and Gpixpixel.
Galleries: In the galleries section, you will get Gallery, Piwigo, Zenphoto, 4images, and many others.
Project man: It includes eyeOS, Collabtive, Dot project, etc.
Files: In files, you will get eXtplorer, ProjectSend, Nextcloud, and many others.
Mail: It offers Roundcube, phpList, PoMMO, etc.
Wikis: Interserver provides PmWiki, DokuWiki, MediaWiki, etc.
Customer Support: In the customer support portal it offers HESK, Live helper chat, PHP Online, and many others.
Save Your Capital with Best InterServer Coupons and Discount codes
Online marketing is one of the best ways to grow your business or increase your profit. If you want to create your online business on a low budget, so you have a great opportunity for saving your maximum amount through Interserver Promo codes, and InterServer Discount Codes on Webtoolsoffers.com
Also read,
Dedicated Server Hosting Comparison