About Dynadot
Dynadot was founded in 2002, providing website services at affordable prices. It helps customers in registering domain names & creating websites at an affordable price. You can select from over 500 top-level domains. Dynadot also has a website builder that helps to build a website in just a few clicks. From a basic website to an e-commerce website you can launch more easily. It doesn't require any coding & one can easily build their own website by drag & drop option only.
Not only this, but it also provides hosting services including VPS hosting, Email Hosting & SSL certification to a website. With all these types of amazing services, you can enhance your online business more effectively. You can use Dynadot Coupon Code or Dynadot Discount Code to get the best deals.
How To Use Dynadot Promo Code?
Dynadot helps in providing domains & web hosting services from small websites to big websites. By using the Dynadot coupon code you can get extra discounts on its services. You just need to select a coupon and it will automatically redirect you to the official website of Dynadot. Here you just need to select the services that you are willing to purchase.
Dynadot Store: Services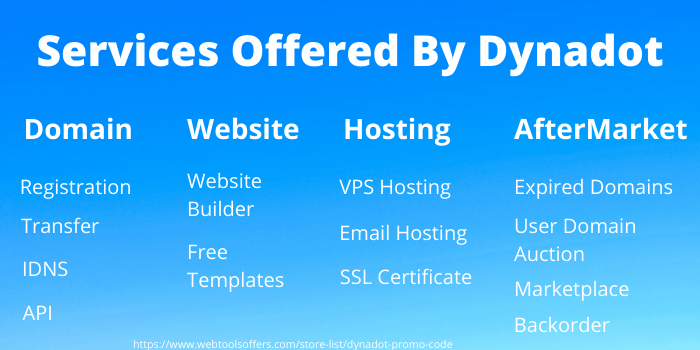 Dynadot provides many online services for a website. The services offered by the company are listed below:
Domains 
1.     Registration
It provides services like domain registration from TLDs to International Domains. Over 500+ domains you can search for any domain that you are willing to use. You have the option to search as:
Normal Search: Search for the domain normally.

Advanced Search: Narrow down your search by using the advanced search options.

Bulk Search: Search for multiple domains at a single time.

IDN Search: You can search for the international domain names in other languages also.
2.      Transfer
You can transfer your domain to other hosting service providers also by simply entering the domain name & authentication code. However, you cannot transfer a recently registered domain (within 60 days) and it must not be expired or about to expire. With every transfer of the domain, the life of your domain is extended by 1 year.
3.      Privacy
With Dynadot's Domain Privacy your personal information is kept private to protect you from spammers & scammers. They will never know about your email & your phone number.
4.      IDNs
International Domain Names are domains that use special characters other than A-Z from Latin alphabets. These contain non-ASCII characters such as Arabic, Russian & Chinese. It allows users to register domain names in their own language & character set.
Websites
Under this category, you can create your own website.
1.     Website Builder
With Dynadot's Website Builder, you can create a website on your own. You can create a simple blog or portfolio website. However, with a Business plan, you create your own store website by using it. In this, you got 4 plans from Basic to Advance. The basic version is free to use but with limited features.
2.      Templates
You can select from 6 different templates to edit your website. All these templates are fully customizable & mobile responsive. You can use the tools with these templates to make it more professional.
Hosting
Dynadot provides you VPS hosting service where you get the benefit of a dedicated server over the VPS server.
1.     VPS Hosting
Dynadot provides VPS hosting services where you get 1 core CPU, 1 GB RAM, 10 GB Disk Space, 1 TB Bandwidth, 99.9% uptime. With full Root Access, you have full access as an administrator with easy to install on WordPress.
2.      Email Hosting
Dynadot Basic Web Hosting is now changed to Dynadot Email Hosting. It offers unlimited email accounts for a new domain. In this, you get 30 MB Disk Space, 99.9% uptime, unlimited email accounts, 3 GB Bandwidth, 1 FTP Accounts.
3.      SSL
With Secure Socket Layer, you can secure your website with an SSL certificate. With SSL you get better security of your domain. You can also secure multiple domains with a 256-Bit Encryption Level & 2048 Bit CA certificate.
AfterMarket
With Dynadot, you get the option to buy & sell domains, you can also bid on the registered domains.
1.     Expired Domains
Through this, you can grab some of the good expired domains that can become your opportunity. Here you have to search for Keywords, choose TLDs, set bids, monthly visitors, set revenue, age & many more options.
2.      User Domain Auction
Through this, you can set the domain for auction & the highest bidder will get the domain. You can set TLDs, Current Bid, Age, and other options to choose from.
3.      Marketplace
It is the perfect place to buy & sell the domains which a Dynadot customer is selling. The seller of the domain has the option to list the domain for sale or make an offer. The buyer
4.      Backorder
After a domain has expired it is re-released & dropped to the public for registration. You can also use Backorder Auctions & Last Chance Auction to get the domain if you want.
What Services Are Included With Dynadot Coupon Code 2023?
Dynadot provides many great services from domain registration to web hosting & also other services. You can enjoy almost all the services of Dynadot at the discounted rates by using the Dynadot promo code.
 Dynadot  Exclusive Features
Dynadot provides many great services with an ample amount of features. We have discussed some of the main features you will get with the type of services that Dynadot offers.
Dynadot Domain Registration
Features
Free Website Builder: With the registration of every new domain you get a starter plan of a website builder for 1 page.
Domain Parking: You can host your domain with free domain parking features with 10 email aliases, 5 MX records.
DNS Setting: You can use a free DNS setting with 50 subdomain records.
Grace Period Deletion: Dynadot helps you to return a domain that you have deleted within a period of time. It helps you to register many domains & you can later keep those that you want by tracking the traffic.
Transfer of Ownership: You can transfer the ownership of the domain to another account without any cost.
 Dynadot Website Builder
Features
SEO: You can use in-built advanced SEO tools to make your website be visible to search engines.
Hosting: The website made on the website builder is hosted on the company's VPS hosting.
Social Sharing: You can use social integration tools to make your website socially shareable.
Easy to Customize: With Dynadot website builder you can easily customize your website using different designs, fonts, colors, and many more.
Code Editor: Users having knowledge of coding can edit their website from the backend also.
 Dynadot VPS Hosting
Features
Full Root Access: You as an administrator can edit or access all the files on your server.
99.9% Uptime: It provides 99.9% and better-uninterrupted internet access.
Easy WordPress Install: As you choose to build your VPS with a WordPress template you can easily publish your first blog.
Dedicated IPV6: With Dynadot VPS hosting you get the IPV6 address with your regular IP address.
Raid Protection: It comes with RAID 10 SSD storage which provides better throughput and latency.
Control Panel: You get a free control panel with some of the templates.
Dynadot Email Hosting
Features
Easy To Access You Emails: You can easily access your emails from anywhere and access your email from mobile devices also.
Unlimited Email Accounts: You can create hundreds of email accounts for your business.
Free Static Website: It allows you to create a simple & static website in HTML. This is good for those who occasionally update their web content.
Site Stats: You can see the site statistics including recent interactions with your pages, unique visitors, and many more.
Easy To Upgrade: If you want to add more space or bandwidth you can simply upgrade your current plan.
Dynadot SSL
Features
Better Security: All SSL certificates are chained root certificates to provide more security than a single root certificate.
Fast Issuance: It helps you to issue your domain through automated services and provides you the certificate within 24 hours.
Secure Multiple Domains: With alpha SSL you can secure your domain and its subdomain also.
Mobile Support: The SSL certificate provided by Dynadot is supported by all mobile devices.
Browser Recognition: Alpha SSL Certificates are recognized by all popular browsers.
Dynadot Support
The support system of Dynadot is quite responsive & has a support ticket system. If you are having an issue you can contact them & they will respond to you within 24 hours. You can ask your queries through forums or you can also chat with them online. You can mail them on info@dynadot.com or use the phone number 866-262-3399.
The blog section will help you in clearing your doubts if you are having any.
Dynadot Pricing For Website | Dynadot Discount Code
Dynadot offers 4 types of plans for users to create their own websites. The first is the Free Plan, then comes the Basic Plan with some features. The 3rd is the Pro that comes with many great features & the last one is the Business Plan with all advanced features. You can use the Dynadot discount code to get these plans at discounted rates.
We have compared these plans according to the features so that you can choose according to your needs & wants.
The price of registering a domain depends upon the type of domain. For registering a TLD you can check here
Get Dynadot Coupon Code
You can grab the latest discount on the services offered by Dynadot using a Dynadot promo code. Being affiliate partners with Dynadot we always try to bring you the best deals at the earliest possible.