Should You Buy Wondershare MobileTrans in 2023? | Detailed Mobiletrans Review!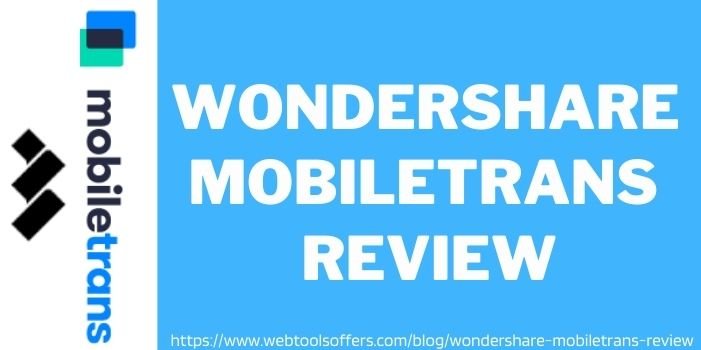 We are living in the twenty-first century when innovation is reaching new heights every day. Since the last decade, there has been a whirlpool of new products launching in the market.
Each year, new software updates, new generation chipsets in processors, and camera upgrades make tech-savvy millennials drool over the deals. Right there, when you change your device and rejoice with the new guest at your home, you start worrying about the data migration process from your old phone to the new one.
A versatile data transfer software that can come to your rescue at this time is Wondershare MobileTrans. No matter which device you have been using and which one you are switching to, MobileTrans promises to take care of the data transfer process.
Through this wondershare mobiletrans review, we will find: is this software worth it by analyzing all of its aspects including its pros and cons pricing features, etc.
What is Wondershare MobileTrans?
MobileTrans is a desktop software for your data transfer needs. It helps you transfer your precious WhatsApp data, photos, videos, files such as contact .vcf files, .docx files, pdf files, etc.
MobileTrans supports file transfer from iOS to Android as well. This feature is quite handy when the lucrative deal on iPhones makes you leave your old handset.
Also, MobileTrans is known for its facilitation of the seamless and easy process. Not just about the transfer, MobileTrans is a great device manager that can help you create a backup of your data on your PC. Down below, we are going to discuss our wondershare mobiletrans review and the common queries that users may have.
Even if you are not up to date with the new launches these days or are not interested in smartphone inventions, you have to surrender to a new device at some point in time. So, irrespective of any over-the-top excitement, this mobiletrans review will be helpful for all of our readers.
Also, our readers should take note of this fact. Wondershare MobileTrans will not hesitate to put forward its service if you have been wondering about a multi-platform transfer.
Be it iOS to Android, Android to iOS, Android to any other platform, or iOS to any other platform Wondershare MobileTrans won't emit a hiccup.
Why do you need such software?
Like we said above, it has become a common phenomenon to change your old phone now and then. The market is revamping itself every day. Also, apart from the new product excitement, there is one other reason.
With new inventions knocking on our door every day, we are coming to terms with the fact that most of the fancy devices won't be able to keep up with you as long as you expect.
As a result, you bump into anomalies in your device, and you can't afford to give it a week for repair because of your busy schedule. So you are but left with one choice, and that is opting for a new device.
Before you can welcome your new guest properly, you realize that you must not lose your precious data in the old phone. You look for a reliable option to handle this business, and here you are.
Wondershare MobileTrans will take it from here. It will get your job done without any hassle. Also, the process is smooth and direct from your old device to the new one, with rare chances of data loss or corruption.
Your other choice may be to copy all data from your old phone to your PC first. Then, making another transfer from your PC to the new phone. It would be cumbersome as well as time-taking.
You now know the answer to your 'why's. Now let's check out the 'how's in the next section of this article.
Detailed Wondershare MobileTrans Review
A review may not always start with the offered features available for you to look at the product website page itself. Depending on the product, the discussion may shift to the most common query of the users.
In this case, we find a lot of users asking whether Wondershare mobiletrans is safe to use. If yes, can they fully rely on it? Let's find out then.
Safety assurances don't come that easy until you see your concerns on the list.
Here is our curated list with the contribution of potential users who came forward to submit their experience.
Fear of the data-stealing

Possibility of virus affecting the data

Privacy policy transparency

Accountability of the product brand
Once we learned that so many users raised their concerns, we decided to try the product ourselves. We tried multiple units of the product and also collected answers from long-term users.
We didn't find any disturbing development while checking the data once the process was over. There was no confirmation message regarding storing the transferring data elsewhere.
We also checked the file size and found no difference in them either. That is why we can conclude that there was no anomaly or suspicious process during the transfer.
2
Possibility of virus affecting the data
We almost covered this point too above. Using third-party software to handle your sensitive information is quite a headache, especially at times like this when hackers are all agog to find vulnerabilities everywhere.
But with MobileTrans, our findings, fortunately, bring the good news. As the transfer occurs in offline mode, there is no chance of a possible virus intrusion into your files.
Furthermore, the most conspicuous sign of a virus is the change in file size or disruption in the regular operation of your system. We found none of that. So you can stop worrying now.
3
Privacy policy transparency
It may look like we are only endorsing the product by appreciating it all along. But how would you point out an issue if that is not there at all? We already purchased 4-licenses of this product for review.
Our money would have gone to waste if we didn't rightly point out the areas. When we were finding only good things about the product, we tried to go even deeper by looking into the mostly-ignored privacy policy to find out about the transparency of the product company.
To our surprise, we understood that it is maintaining the industry-standard protocols. MobileTrans doesn't collect any personal data, except the minimum information essential for an improved user experience, for example, data transfer process duration, device type used, etc.
4
Accountability of the product brand
MobileTrans doesn't desert its users during their crisis. When we tried the support team, we found it to be active 24*7. We also learned about the exciting refund deal they offer if users are not content with the product experience. Wondershare MobileTrans will refund the whole amount to users if they are not happy with the product.
Is Wondershare Mobiletrans Worth The Price? How Much Does It Cost?
Even the devices that don't support transfer also respond well with Wondershare MobileTrans. We tested Symbian OS devices, and in them, our transfer didn't show any error.
Overall, we found that MobileTrans does what it says. It doesn't deviate from the statement that it can transfer data between any devices. So, we cannot help declaring that you get the value for your bucks.
Coming to the pricing portfolio of Wondershare MobileTrans, we got to see some differences depending on the platform we use.
Pricing Structure Of Wondershare Mobiletrans
There are both perpetual, as well as, yearly licenses available.
For Windows users:
For Phone transfers, the yearly price is $29.99. The lifetime license would cost $39.99.
For WhatsApp transfers, the website shows the yearly price will be $29.99. The lifetime license here is $39.99.
Full features are available at $39.99 per year, and for the lifetime purchase, you have to spend $49.99.
For Mac users:
Mac users have to pay $44.99 yearly for phone transfers. A lifetime license for the same would cost $59.99.
For WhatsApp transfer, their expense would be $44.99/year. A lifetime license would cost $59.99 here.
To enjoy the full features, including the above two and the backup, restore features, a yearly purchase would be worth $54.99. The same features for the lifetime would attract $69.99.
Wondershare MobileTrans, for now, shows only this much information on its website. We hope there will soon be some custom plans targeted at students and other professionals.
Is There Any Free Version Of Wondershare Mobiletrans?
We can not call it a free version as most popular features are not available with the free version. Like you can't transfer WhatsApp data with the free version. You can not restore your social app data.
You can back up your phone data and social app data to PC for infinite time. However, if you want to migrate and restore your phone data, you can do it for up to 5 contacts. Beyond that, you have to purchase the full version.
What Are The Features Provided By Wondershare Mobiletrans?
Here are the features offered by Wondershare MobileTrans:
For transferring files from one phone to another, there are several options. But when it comes to reliability, safeguarding data, seamless method of doing it, MobileTrans is your go-to option.
Not many applications support the transfer of all kinds of files, including contacts, messages, notes. Many can allow the transfer of photos and videos, but they will fall short when you need to move your contacts and messages. Wondershare MobileTrans doesn't shy away from it.
It also supports more than 8000 mobile devices regardless of their operating systems. While using Wondershare MobileTrans, we couldn't help but appreciate the user interface, which was easy to use and smooth with the one-click-transfer feature.
To rescue the new iPhone users, Wondershare MobileTrans removed all barriers to the data transfer between Android and iOS devices. No need to know rocket science. It will take a few minutes for anyone to do the process.
The components you may need are the phone cables attached to the PC with your two handsets, and you are good to go. The transfer time will vary with the total size of the data.
MobileTrans also allowed us to restore the backed-up data from PC to our phone, and so far, we haven't faced any issue while doing all the above tasks.
WhatsApp has become our daily tool when it comes to communication or important transaction during such pandemic times. Students enrolling in courses and taking admissions in various colleges are taking online classes and assignments over WhatsApp.
So, those days are far gone when WhatsApp would serve only to facilitate your friendly conversations. Now, apart from your sweetest memories or precious conversations, WhatsApp incorporates vital instructions from college and office. Needless to say, how important it is for you to keep it all safe till you need it.
What will happen if you suddenly come across a problem with your handset? Will you be able to retrieve all the data in your WhatsApp account on your new phone?
No. You have to back it all up and ensure you can restore it to your new phone when you install the app. Wouldn't it be even better if you could seamlessly transfer your WhatsApp data to your new phone directly from your old handset?
Wondershare MobileTrans does just that for you. Very often, while switching to your new handset, you lose your chat history fully or partially. You also see that some of your shared and received files are missing when you log into your WhatsApp account on your new phone.
To get rid of all such ordeals, MobileTrans facilitates no-hassle WhatsApp data transfer from phone to phone, even if one of the two is iPhone and another is Android or Windows.
Not just that, you can also take a backup of your WhatsApp data on your PC whenever you please. The data includes your chat history, shared files, photos, videos, gifs, any form of attachments, sticker packs.
We also found out that Wondershare MobileTrans provides the same service for other messaging services like Viber, WeChat, Kik, etc.
Not just WhatsApp, your whole device is filled with photos, contacts, important documents related to your work, admissions, soft copies of bills, etc. None of us can come forward and say that we won't mind losing it on an unprecedented occasion.
What sets MobileTrans apart from the likes of iTunes backup feature is its ability to back up contact files, call logs, calendar events, your precious bookmarks, voice memos, notes you saved for various purposes.
Like other features we mentioned above, this one, too, doesn't differentiate you based on which operating system you are using on the device you are trying to back up. Be it an iPhone, Windows phone, Android, or other categories, like Symbian OS phones. You are all covered.
What is the use of backing up all files if you can't restore from it? Wondershare MobileTrans doesn't offer that halfhearted service. Once we backed up the files from the mobile device to the PC, we straight up went for the restore option to check it.
We thought that users might anytime face disasters by losing some or all of the data. They would indeed look for viable ways to retrieve the data from the backed-up source. As we tested the operation, we can now guarantee that the restore feature in MobileTrans would be a very well-structured way to carry out the whole process.
We would also add that MobileTrans allows users to take a quick preview and have the freedom to select specific files or all of them to restore. You can restore all types of files you backed up, unlike iTunes backup that can't include file types like contacts, call logs, notes, etc.
How to use the Wondershare MobileTrans?
The first step is always the installation. If the installation process is arduous, many of us won't rate it good no matter how good its services are. When we tried installing it, we landed on the Wondershare MobileTrans official website.
Next, we downloaded and started the installation. We didn't find any issue during installation. The process was quick and easy. After that, the setup process was also a matter of seconds. Soon we were redirected to the home page window of MobileTrans.
There will be two distinct sections on the screen. They were for the two devices you are connecting for the transfer. Once we attached the two devices with the USB cable, the display popped up with details of the devices.
We set one device as the source and the other one as the aim. You can change it using the flip button. After confirmation, a middle section will appear with the list of files you want to copy. You select the files you want to transfer.
Next, You hit the "Start" button. The transfer process will start. You can check the progress in a separate section.
Advantages And Disadvantages Of Using Wondershare Mobiletrans?
We almost touched upon all the aspects of the software. During the test, we noted down points that could be useful for our readers. Before wrapping up, here are the quick wondershare mobiletrans pros and cons list for your final understanding.
Benefits And Limitations Of Mobiletrans
Pros Of Wondershare Mobiletrans:
I must say that the feature that stunned me the most was the transfer of files between iOS and Android. This feature is rare yet extremely helpful.

It does what it advertises. While most products we consume nowadays are associated with overhyped advertisements.

Wondershare MobileTrans lives up to its words. That is a 1-click Phone to Phone data transfer solution, and we saw no difference in practice.

The easy-to-use interface must earn some brownie points for itself.

We found our go-to solution for the whole phone backup.

Its most talked about feature is WhatsApp data transfer.

It left us with no complaint regarding that.

The speed of transfer outmatches existing software in the market.

We transferred 200 music files in less than 2 minutes. It is overwhelming.
Cons Of Wondershare Mobiletrans:
We would appreciate it more if its free version offered more features. The options available with the free trial are just not acceptable.

Many users reported this, forcing us to verify the claim ourselves. It was a valid claim.

You can't pick specific files under a particular category of files.

We, too, tried to transfer one image from one device to another but eventually were prompted to move the entire gallery.
Last word: Wondershare MobileTrans Review
From our mobiletrans review, you must have grasped sufficient knowledge about the product. What do you think about Wondershare MobileTrans?
Our understanding was to choose it any day to simplify the difficult task of transferring data, especially for its different device compatibilities. However, this was our experience.
We would be excited to know your views after you use it. Let us know in the comments your take on it if you already used it.
For others, we would be happy to recommend MobileTrans. If you still have anxieties before the purchase, we advise you to go for the free trial to comprehend how it works.
Check Out Our Other Wondershare's Product Related Articles: