FastestVPN Review 2023 | Is it Really Fastest?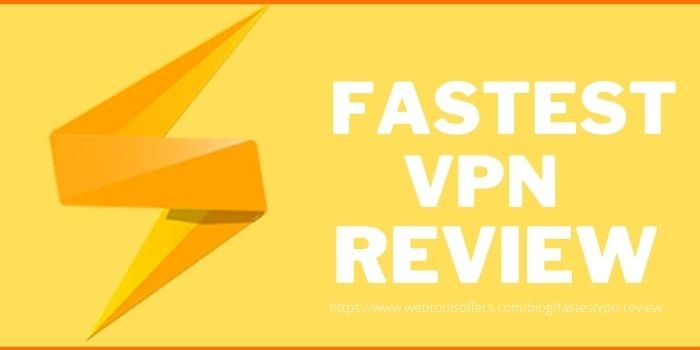 One of the better VPN with affordable price !
PROS
1. Affordable VPN Service Provider
2. Unblock Netflix Ad and Malware blocking
3. 10 Simultaneous Connections
4. 24/7 Customer Support
5. Compatible for 20+ devices
CONS
1. Not able to unblock BBC Iplayer configurable
2. No Security Audit
Add your review
|
Read reviews and comments
Fastest VPN is one of the most popular VPN. It is the Cayman-based VPN provider that gives a number of features. The fastest VPN comes with lots of features and benefits that make it the most powerful VPN provider. FastestVPN supports multiple platforms like Windows, Mac, Android, iOS Roku, Kodi, and it also gives Chrome and Firefox extensions. It provides a 99.9% Uptime guarantee and a number of servers. It also has special servers for torrenting (P2P connections). You will get a P2P connection server in 39 locations across 31 countries. Fastest VPN is the most affordable VPN hosting company. It offers excellent resources at very affordable rates. In this FastestVPN Review, We are going to give you complete knowledge of this VPN software. You will get to know about its Features, Pros & Cons, and Pricing. So let's get started-
FastestVPN Review | Features, Pros & Cons and Pricing
FastestVPN is the most affordable VPN provider and it also provides a number of server switching services. The company provides benefits like Kill Switch and DNS Protection to keep you anonymous while surfing online. FastestVPN maintains your privacy and protects your digital identity while surfing, browsing, streaming, and torrenting. FastestVPN is a very pocket-friendly VPN service and you can also get your money back within 15 days ( in case if you will experience something wrong ).
FastestVPN Features
As we have said before that it offers a number of features. It is well known for delivering high-performance resources and excellent features. With FastestPN you can become completely anonymous, but the Windows apps need work. We have tested it personally and then concluding this FastestVPN Review. We have found some of the amazing features which make it more powerful. SO let's check out FastestVPN features-
Advanced Features of FastestVPN
FastestVPN provides advanced features and benefits to its users. The company offers excellent features that protect your digital privacy online.
Let's check out some of them-
Ad Blocker–

Fastest VPN blocks unwanted advertisements. FastestVPN helps you to prevent popping up of advertisements. This Ad-blocker feature will help you to block unfavorable ads and pop up on your screen.
Anti-Malware–

Malware is a huge term as it can damage your device completely. The fastest VPN also blocks the malware that can severely destroy your devices. The fastest VPN Anti-Malware feature runs by default as it automatically runs by connecting with a server.
Connectivity Features of FastestVPN
FastestVPN provides smooth and effective features that will give you high-performance. Below are some of the connectivity features of FastestVPN-
Compatibility with 20+ Devices

– FastestVPN is compatible with 20+ devices which you will rarely find in any other VPN provider. You don't need to worry about the connectivity. You can use the Fastest VPN on any of the devices.

10 Simultaneous Connections

– FastestVPN provides 10 simultaneous connections so if you have a joint family of 8-10 members then you do not need to purchase VPN connections for every member. You will get 10 Simultaneous connections in a single subscription.

Smart Tunneling

– Fastest VPN provides Smart Tunneling features which is one of the most amazing features. It helps you to route your traffic with a VPN even if your app is off or not in use.

DNS Leak Protection

– A DNS sends your Internet requests outside the VPN tunnel which makes your IP Address expose. But Fastest VPN helps you to ensure high-security and DNS Leak protection that protects your IP Address from getting exposed.
Security and Privacy Features of FastestVPN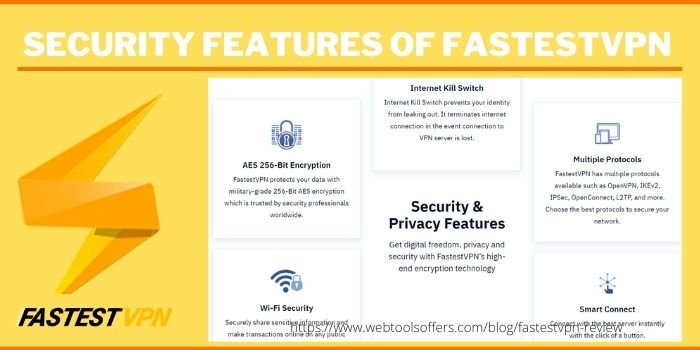 Internet Kill Switch

– This feature helps you to protect your IP Address from leaking out when your VPN gets down. In other words, it will protect your IP Address by switching off the Internet connection in case your VPN server is lost.

AES 256-Bit Encryption–

FastestVPN helps you to protect your data and information from trackers and hackers. This security encryption is trusted by professionals and experts. It will help you to protect your privacy and your confidential data.
Multiple Protocols

– Fastest VPN deals with multiple protocols such as OpenVPN, IKEv2, IPSec, OpenConnect, L2TP, etc. You can choose the best amongst them to get the best security.

Wi-Fi Security

– FastestVPN helps you to keep you secure while using Public Wi-fi. It helps you to protect your confidential information or your credential data while doing transactions online on any public wi-fi.

NAT Firewall

– NAT Firewall helps you to block unnecessary traffic so that your privacy will be safe and secure. It will help you to keep you safe and secure while surfing so that this feature helps you to block unwanted or dangerous traffic.

Smart Connect

– The best feature of FastestVPN is that you can connect with any of the servers within a single click.
Server End Features of FastestVPN
Unix-based P2P Optimized Servers

– You can use any of its high-speed servers and get P2P Optimized files sharing activities. You can also get high speed while downloading any files.

Unlimited Bandwidth

– There is no limited capacity for downloading and uploading of files with FastestVPN. You can download a number of files without any restrictions.

99.99% Uptime

– FastestVPN gives 99.99% Uptime guarantee. This simply means that its server will be available 24/7 so that their customers do not face any inconvenience.

Unlimited Inconvenience

– FastestVPN provides a number of servers so that you can switch to multiple servers without any restrictions.
Entertainment Features of FastestVPN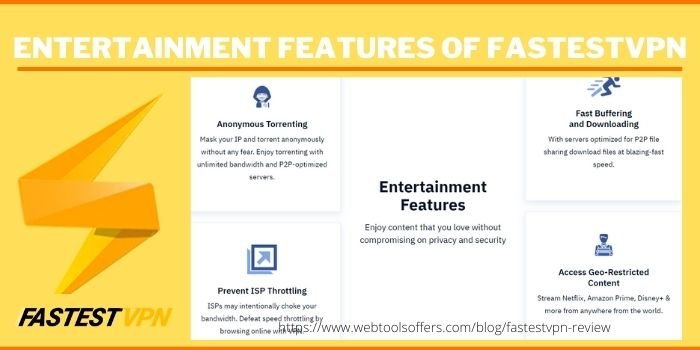 Anonymous Torrenting

– FastestVPN hides your IP Address and allows torrenting without any restrictions. You can torrent fearlessly with FastestVPN.

Prevent ISP Throttling

– ISP helps you defeat the speed throttling while browning online by using FastestVPN.

Access Geo-Restricted Content

– FastestVPN helps you to access geo-restricted content. You can unblock Netflix with FastestVPN but you will face issues while unblocking. If you are searching VPN software for unblocking Netflix then this is not your good choice. But overall you can unblock Amazon Prime, Disney+, etc.
Other Features of FastestVPN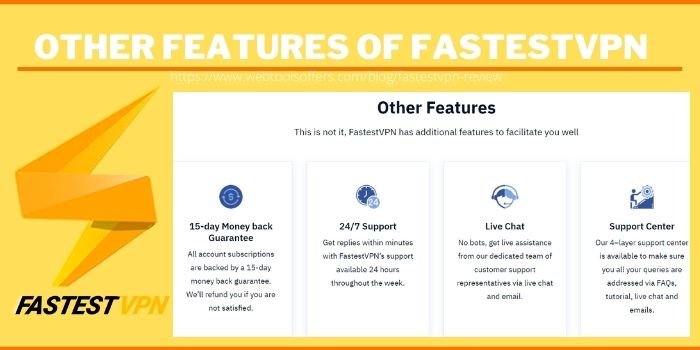 15-Days Money Back Guarantee

– Fastest VPN provides 15 days money-back guarantee so in case if you find something wrong with the VPN service then you can get your money back within 15 days.

24/7 Customer Support

– FastestVPN provides excellent customer support. The experts are available 24/7 for solving your query. You will also get a Live chat feature in which a live assistant will attend to you. You can also resolve your queries via FAQs, tutorials, live chat, and emails.
Fastest VPN Review- FastestVPN Pros & Cons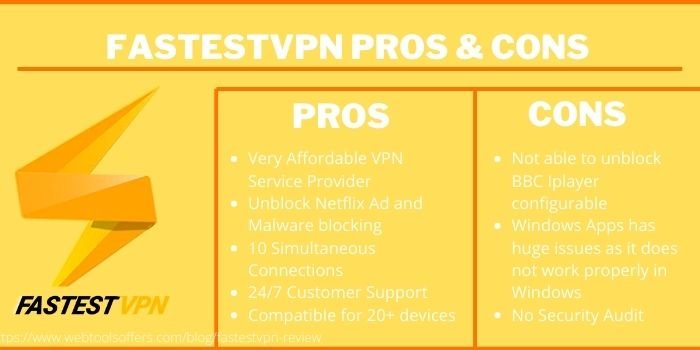 Pros–
Very Affordable VPN Service Provider

Unblock Netflix

Ad and Malware blocking

10 Simultaneous Connections

24/7 Customer Support

Compatible for 20+ devices
Cons–
Not able to unblock BBC Iplayer configurable

Windows Apps has huge issues as it does not work properly in Windows

No Security Audit
Fastest VPN Review-
FastestVPN Pricing
You can choose from multiple subscription offers provided by the FastestVPN.Below are some of the most affordable plans and pricing of the company-
FastestVPN 1 Month Plan- $10/mo*
FastestVPN 1 Year Plan- $2.49/mo* Save $90
FastestVPN 3 Years Plan- $1.11/mo* Save $320
FastestVPN offers the most affordable VPN plans and pricing. If you want a VPN that suits your budget then go for this amazing VPN service provider. You can also get a FastestVPN Lifetime subscription and enjoy its amazing features and high-performance.
Check out other VPN Review-
How Many FastestVPN Apps Provided For Your Device?
There is a long list of FastestVPN Apps. You can easily FastestVPN download to any device which you have as it offers apps for multiple devices. Below is the complete list of the apps that are offered by the company for your device-
FastestVPN For Windows

FastestVPN For Mac

FastestVPN For iOS

FastestVPN For Android

FastestVPN For Amazon Fire Stick

FastestVPN For Android Box

FastestVPN For Kodi

FastestVPN For Roku

FastestVPN For PS4

FastestVPN For Linux

FastestVPN For AppleTV

FastestVPN For XBOX

FastestVPN For Chrome Extension

FastestVPN For Firefox Extension

FastestVPN For SmartTV

FastestVPN For Android APK

FastestVPN For Router

FastestVPN For Apple Chromecast
Is FastestVPN Really a Fastest?
The fastest VPN is not that fastest, unlike its name. But it is one of the quickest VPN Services. The fastest VPN does not lose connection if you will connect with the nearest server. But the speed slows down when you connect to the long-distance server. It will not affect most of the users. Our personal experience with this VPN Service is that it takes a very long time to connect but after connecting it provides amazing.
Conclusion: Is it really the fastest VPN?
Yes, we will recommend this excellent VPN Service as you will get high-performance. There is a slight issue with its speed but its performance is outstanding and it is pocket-friendly too. In this FastestVPN Review 2023, we have covered all the points of this VPN service provider. We have covered every single piece of information about this excellent VPN Service provider. As we have personally used this VPN and find it very affordable and amazing.
We have also checked out the FastestVPN Reddit Review and find out the real reviews of the customers and there we find that it really provides excellent performance. There is only a single drawback as it has issues in Windows App. It's Windows app does not work properly as I find some issues. But overall it is the best VPN that comes with great features. Hope this FastestVPN Review helps you to understand this product. Do let me know in the comments if you have used this VPN or not. Stay tuned for more updates.
Also Read: