Bitdefender VS Kaspersky 2023 – Detailed Comparison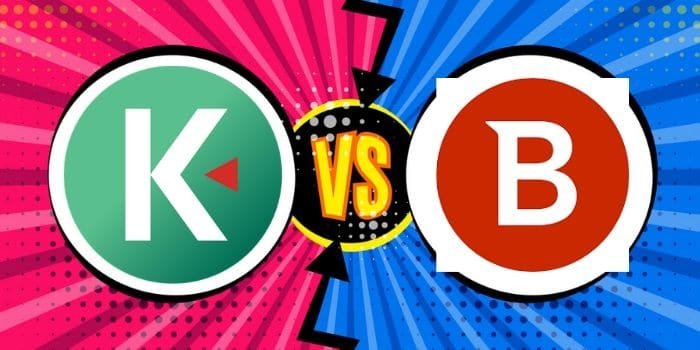 Bitdefender and Kaspersky are the two popular antiviruses that are used by millions of people worldwide. In terms of device protection, both provide the best online security that makes them worth for money. But things get more interesting when you have to choose one antivirus between Bitdefender vs Kaspersky.
"Which is more secure and beneficial for you, Kaspersky or Bitdefender?"
Questions like this are common very common because of the popularity of both antiviruses.
Usually, some antivirus companies share almost similar features with each other. But these two giant antivirus companies have some unique and different features that make them unlike each other.
In this Kaspersky vs Bitdefender article, we will discuss features, plans, pricing, performance, and many important parts. After looking at all the pros and cons you may decide which antivirus is best for you. 
Plans & Pricing Comparison: Bitdefender vs Kaspersky 2023
The plans of Bitdefender and Kaspersky kind of look the same but their pricing is different. Also, you may see some contrast of features on both antivirus software similar plans. 
Bitdefender
Bitdefender offers mainly three antivirus solutions to its customers. All of them are used for different purposes and rates are also different from each other. Here are the three main plans offered by Bitdefender:
Antivirus
Bitdefender Antivirus Plus 2023 is the best antivirus protection for windows pc. You get real-time protection against all cyber threats like ransomware, viruses, phishing, and many others. Also, you get a secure VPN for online privacy 200/MB each day. Bitdefender Antivirus only supports the Windows platform.
Price: Bitdefender antivirus 1 device cost you just $39.99. But if you want the best saving, you can choose 3 devices plan that cost you only $24.99 with a 58% huge discount. After purchasing this plan you can use Bitdefender antivirus on 3 different PC at the same time.
Internet Security
Bitdefender Internet Security 2023 provides complete internet security online. It maintains your privacy online and filters your network traffic. Not only this but it also secures your webcam and microphone from being hacked. Just like the antivirus, Bitdefender Internet Security also supports only the Windows operating system.
Price: Bitdefender Internet Security 1 device cost is just $59.99. But if you choose the 3 devices plan, it will cost you just $34.99. That means you will get a huge discount of 56% off.
Total Security
Bitdefender Total Security supports multiple platforms of your devices. That includes Android, Windows, Macintosh, and iOS also. Total Security covers all the security vulnerabilities that you need online and offline. The Total Security plan includes all features of antivirus and internet security and some more features like:
Parental Control features that help to secure your kids.

It puts a low impact on your system performance so it won't slow down.
Price: Bitdefender Total Security plans are the best if you compare all the plans of Bitdefender. 5 devices plan of Total Security costs only $39.99 with a huge discount of 56% off. Also, if you belong to a big family then you can choose a 10 devices plan that costs you only  $44.99/per annum.
Note: All plans that are discussed here cost you yearly.
Kaspersky
Just like the Bitdefender, Kaspersky also has three main security plans. All the plans used for a different purpose and have some unique features which you can find below:
Antivirus
Kaspersky Antivirus defends your system(PC) against viruses, ransomware, and many other threats. Installation and using this Antivirus is easy and it protects your system without slowing it down. Kaspersky Antivirus is made only for the computer and doesn't support other platforms.
Price: Kaspersky 3 devices plan for a 1-year cost you only $23.99 which is less than the Bitdefender plan. Also if you purchase a 3 devices plan for 3-years of Kaspersky then you will see a huge difference there. Kaspersky 3 devices 3-years plan cost $71.99 which is very affordable same as Bitdefender Antivirus.
Kaspersky Anti-Virus
Kaspersky Anti-Virus secure your device from cybercrime and malware Viruses
$59.99

Internet Security
Kaspersky Internet Security includes all the features of antivirus and gives some more features. You can use internet security on your PC, Mac, or Mobile according to your needs. You get a privacy feature that blocks the phishing website and stop webcam hijack. Also, you get protection while money transactions.
Price: Kaspersky internet security 3 devices single year plan cost is $31.99. But if you purchase 3 devices 3-years plan then it will cost you just $95.99. Still, Kaspersky Internet security is affordable same as Bitdefender's internet security.
Kaspersky Internet Security
Kaspersky Internet Security is used to secure your all the information related to online transaction and shopping
$79.99
Total Security
Kaspersky's total security is the premium security suite that is recommended by experts if you need antivirus and internets security both. It includes all the features of Kaspersky antivirus and Internet security and gives some more features like:
It prevents your kids to watch bad content over the internet by blocking it.

You get a password manager to manage & secure your password online.

File protection and GPS tracker for your device.
Price: Kaspersky Total Security 5 devices 1-year plan price is $39.99 and protects your device 360. But if you purchase 5 devices for a 3-years plan then it cost just $119.99. 
Kaspersky Total Security
It will helps you in protected you and your family information. It secure all the data, Images, and information
$99.99
First Opinion
After comparing the plans and pricing of Bitdefender vs Kaspersky, We found that Kaspersky offers more features in their plans. Also if we look at the price then Bitdefender is slightly affordable compared to Kaspersky. Both companies have similar plans but some different features. You can decide on your own after looking at the current plan which antivirus software you want.
Ease of Use: Kaspersky vs Bitdefender
The popularity of any antivirus software depends on how good is their interface. The more people will find it easy to use, the more it will be popular(that's for sure). 
Now we are going to compare the user interface and experience that Bitdefender and Kaspersky provide.
Bitdefender
Installation
After the latest update, the Bitdefender installer becomes less heavy than before. Still, it takes approx 9-10 minutes to install and configure. 
User Interface
The main screen of Bitdefender antivirus is very simple and attractive. There are 5 main options you can see on the dashboard which is as follows:
Quick Scan Protection

VPN Privacy

Antivirus Plus

Safepay

System Scan Protection
The quick Scan feature allows you to scan your device in a boost mode. It will scan your pc within a few minutes. Same as a quick scan you can access other features too directly from the dashboard.
On the left side, you can find some other options like Protection, Privacy, Utilities, Notifications, My Account, Setting, and many others. All these options are very useful and available on the sidebar menu.
Kaspersky
Installation
The installation process of Kaspersky is very easy and simple. it takes 8-9 minutes to get fully installed on your system. 
User Interface
Also, the Kaspersky user interface is slightly different from Bitdefender. There are 8 different options available on the main dashboard which is:
Scan

Dashboard Update

Safe Mooney

Password Manager

Privacy Protection

Backup & Restore

Protection for Kids

My Kaspersky
Second Opinion
Bitdefender and Kaspersky both have simple and easy to use screen. Where in Bitdefender some features are categories on the sidebar menu. On Kaspersky, there is nothing like the sidebar and all the features you can find on the dashboard. Users can easily use both antivirus software without facing any serious issues. But because of less time on installation Kaspersky has a little advantage.
Protection & Performance: Kaspersky vs Bitdefender
Protecting against online threats is the priority of any antivirus. There are different tests available to analyze the protection and performance of antivirus. We are going to find which antivirus gives the best security, Kaspersky or Bitdefender.
Bitdefender
There's no doubt that BitDefender has been providing one of the best security against viruses. From January 2011 to August 2019, Bitdefender scored 5.93 out of 6 in the AV-Test of protection. If we talk about performance then it has scored 5.82 out of 6 in AV-Test.
On the above test, Bitdefender providing 100% protection against 275 zero-day malware samples. Not only zero-day, but Bitdefender also provides 100% effectiveness against almost 20,000 malware samples.
But there is a little drawback of Bitdefender antivirus in which experts are working. While running Bitdefender antivirus if you launch a website then it slows down the PC performance up to 25%. Where other antivirus affects only 15% of the system.
System Requirements
Internet connection required for product activation, updates, and some features.

You should have at least a window 7 service pack 1  or above in your system for a better experience.

The processor must be at least CORE 2 DUO (2 GHz) or above for smooth running.

Your system should have 2 GB RAM installed.

Bitdefender antivirus takes 2.5 GB of space in a system at the time of installation.
Kaspersky
Kaspersky is in the second position in AV-Test after the Bitdefender antivirus. From January 2011 to August 2019, Kaspersky scored 5.90 out of 6 on protection. And on a performance basis, it gets 5.76 out of 6 which is less than Bitdefender.
But it's not like Kaspersky doesn't have good protection. Kaspersky has blocked 1.90 billion attacks in the past year and that's the reason why PC Mag is rated as an "Excellent" Antivirus. Kaspersky is the one antivirus that gets the most tested and most awarded antivirus security for the past 6 years straight. 
While running at the background process, Kaspersky only 15% slow down your PC performance. You get a smooth performance at the time of surfing the internet without bog down to your computer.
System Requirements
Internet connection needed for updating antivirus, activation, and access to some features.

Operating System should be at least Windows 7 service pack 1 or higher on your computer.

The processor must be 1 GHz or higher for an excellent user experience.

RAM required 1 GB of 32-Bit or 2 GB of 64-Bit in your system.

Kaspersky antivirus takes 1.5 GB of space in your system at the time of installation.
Third Opinion
After comparing protection and performance terms, we found that both Bitdefender and Kaspersky giving the best service to their customers. Where Bitdefender is on the top list of AV-Test and providing more than 20000 types of viruses. On the other hand, Kaspersky is in the second position and blocked more than 1.90 billion cyberattacks last year. Where Bitdefender bog down computer 25% at the time of using websites, Kaspersky slows the computer only 15%.
Verdict
On the Bitdefender vs Kaspersky 2023 fight, we compare some important points to find out which is better for you. Bitdefender and Kaspersky both provide antivirus plans at an economical rate. But Kaspersky offers some more features in Kaspersky Antivirus and Internet Security in comparison to Bitdefender Antivirus and Internet Security. You also get the most secure password manager in Kaspersky Total Security, unlike Bitdefender Total Security. 
Still, both are great performers and giving top class security to your system. Now you have to decide which one you need for your device, Kaspersky or Bitdefender. Choose one that suits you.