All

Deals

Coupons

Sales

Expired

 About Interserver
InterServer is a Secaucus, New Jersey-based company which was founded in 1996. It is a hosting company with a solid reputation for providing reliable hosting service and skilled technical support to its users. InterServer has four data centers in the US (United States). They provide excellent coverage in North America. The data centers are staffed very skilled as well as security guard 24/7,365 days a year.
What type of features you will find in InterServer services?
Free migration service, they offer free migration service to their customers. You can easily transfer your website hosted anywhere, onto their InterServer account within less time. You don't need to worry about anything the staff will manage the migration process gently and carefully. No matter what control pane and account access you have on the old host. They provide you 24/7 support service.
Price lock up guarantees, price lock up guarantee means the price of your services at sign-up will never change in future.
Domain registration at $1.99, you are able to register or transfer the domain name for $ 1.99 with the purchasing of any web hosting services.  
Easy to use control panel, it is very easy to use control panel. IF you are having a problem in maintaining your website. So, it will provide you a Linux based control panel that gets rid of the problem you may have on your website.
What type of hosting plans and pricing provided by InterServer?
One of the biggest benefits of using InterServer service is that: the amount you have agreed at the time of signing up is the price you will continue to pay during the lifetime of the contract. As long as you are not making any adjustment in your plan, you expect a constant fee for your web hosting needs.
8 type of hosting is provided by InterServer
 InterServer is full web hosting service provider, the hosting type they provide are as follows: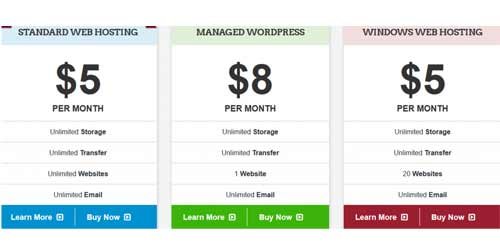 Cloud Hosting
Virtual private server(VPS)
Dedicated Hosting
Shared Hosting
Colocation Hosting
Reseller Hosting
Quick server Hosting
Custom Hosting
What is Cloud Hosting?
Cloud hosting is a type of hosting that store data across a number of different web servers in cloud comparatively single server or dedicated server. It is a good choice for small businesses that may need to grow up faster and quicker.
What is VPS (Virtual Private Server)?
VPS Hosting is a hosting which divides the large numbers of a server in a small virtual server which each acts as an independent environment. It may be similar to shared hosting but with this hosting, you have a limited amount of resources dedicated to your needs.
What is dedicated hosting?
Dedicated hosting is a server in which server is devoted to a single organization or for a single purpose, such as a website. In InterServer you are able to choose you any flavor of an operating system like Linux, UNIX, and Window.
Interserver provides you  5IP addresses, 100 GB or 1Gb port, a Transfer rate of 10 TB, 24/7 uptime managing support and Data migration.
What is Shared Hosting?
Shared hosting is a hosting in which multiple websites use a single server, each having its own internet domain name. It is a less expensive way to create your website.
If you want to choose a basic shared hosting plan. You may choose from these three options. It includes unlimited storage, transfer, and e-mails.
Standard Plan, this plan is a good choice for you if you are just getting started or if you have light traffic.
Window/ASP.Net, this also works as a standard plan, but the servers run Microsoft products rather than open source/Linux based software.
WordPress, This plan is for those who want to host a WordPress site. It is just similar to the other shared plan but it includes some other features like version control, anti-virus protection, and daily backups.
What is Colocation Hosting?
Colocation is a data center facility in which business can rent space for server and other computing hardware. Interserver offers colocation plan for those who want flexibility, power, and performance in the there dedicated plan while also having control over your infrastructure. It provides power, bandwidth, and physical security while the customers provide customers and storage.
 What is reseller web hosting?
IT is a type of hosting which the account owner has the ability to use their allotted hard drive space and bandwidth to host a website on the behalf of third parties. InterServer provides this reseller web hosting in five different plans. The difference between the packages is the amount of disk space is allotted to the amount of maximum bandwidth you and your affiliates are using.
What are the benefits of the price lock guarantee provided by InterServer?
There are many numbers of benefits of price lock guarantee for your small scale business or mid-size company; no need to worry about getting the best deals, price stability, and effective budgeting.
Save Your Capital By the Best InterServer Coupons 2019 or Offers
Online marketing is one of the best ways to grow your business or increase your profit. If you want to create your online business in low budget, so you have a great opportunity for saving your maximum amount through Interserver Promo codes, InterServer Discount deals on Webtoolsoffers.com