VPN means Virtual Private Network which is basically used to ensure Internet privacy. The Internet is governed by many data retention laws and privacy breaches. VPN is a software tool that helps you to avoid these privacy breaches and piracy of data and information. In simple words, VPN creates a mask identity of your IP address so you can easily access the data and information over the Internet which is banned in your particular country or area by the government. With a VPN you can connect with any country & servers worldwide. There are many situations where you may want or need a VPN. Here in this article, we have mentioned certain points which clarify that What is VPN used for? and What are the reasons to use a VPN?
What Is VPN Used For -What Are the Reasons to Use a VPN?
There is a number of people who are using VPN for torrenting or detouring geographic restrictions to watch content from different countries. Besides Torrenting or Geographic restrictions, there are many other reasons why we use a VPN? Some of the reasons are given below:
Access Geo-Blocked Websites
VPN helps you to hide your IP address and allows you to access the websites which are ban in your particular area or country. For example: Do you watch movies or tv shows on Netflix. If you watch then you may know that Netflix of a region is different from another region. If you want to watch tv shows or movies in England and you are in America then you can access the restricted areas by connecting with a VPN.
Downloading Files
Many people use VPN connections to download files from BitTorrent. In many areas torrenting websites are ban and to download the torrenting files you can connect to a VPN. You can easily download any torrenting files by connecting through a VPN.
Safely Connect to any Wi-Fi
Public Wi-Fi networks are not as secure as you think. There is a possibility of hacking. Hacking can be a very big issue for any Internet user. You can safely and securely connect to any wi-fi via a VPN.
Research the Competitive Website
If you want to analyze the competitive website then you can connect to the VPN connections. If you are a user of India and want to see the ranking of a competitive website over the search engine then you can change your IP address via VPN.
Unblock Social Media
Social Media is one of the most censored uses of the Internet. There are many countries (China, Algeria, North Koria) where Social media like Facebook, Twitter is blocked. They have blocked social media permanently to prevent the flow of Information. But by using a VPN they can easily get access to social media and run these platforms without any restrictions.
Is VPN Safe to Use?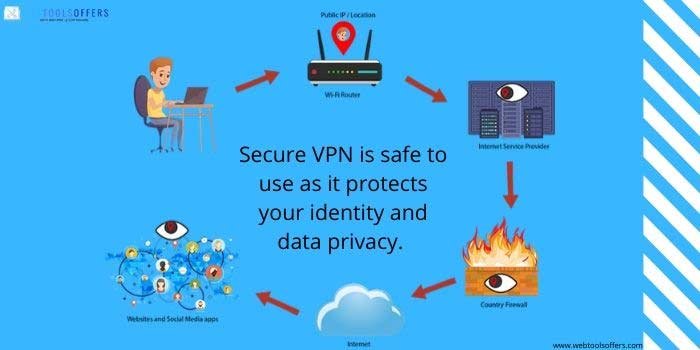 People (who don't know what a is VPN) talks a lot of fairytales about VPN. The fact is VPN is safe to use and built to protect your identity and data privacy. VPN features totally depend on the VPN provider with which you are dealing with. For example, Cyberghost VPN, NordVPN, and Panda Security are some of the best VPN providers which offer safe and secure VPN services.
Also, Check-out:
How to play Pubg after Ban using VPN