Surfshark VPN Review 2023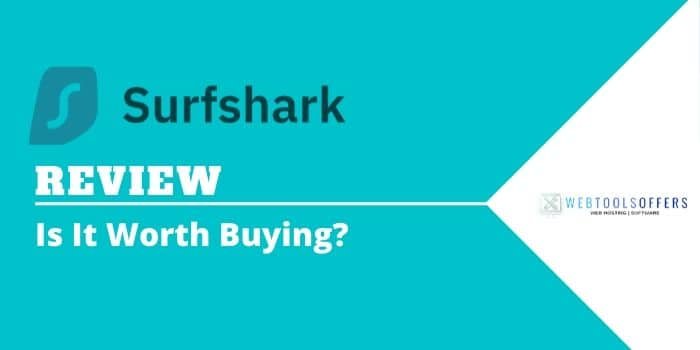 A VPN is a network that creates a private network from a public network for the user. It masks the IP address so that all the online activities become untraceable. A VPN has the power to open doors to virtually restricted regions and also saves the user from hackers on public wifi. Usually, people get confused about which VPN to buy. Many people recommend buying Surfshark. On the other hand, many do not. So to solve your confusion we have written this Surshark VPN Review. It will help you decide better whether to buy it or not.  

Surfshark 83% Off VPN Coupon
Up To 81% Off 2-Year Subscription | 4.3 (TrustPilot) | Support Protocol 256-bit AES/OpenVPN, IPSec & IKEv2 | 30-Day Money-Back Guarantee | Support Unlimited Devices
$12.95 / mo
Why Surfshark?
Surfshark is a versatile VPN that encrypts users' data and provides features that are beyond VPN. It helps the user to stay private and protected whenever they use a public network. 
With 800+ servers across 50 countries. Surfshark extends its support to windows, Mac, IOS, Android, and Linux through apps. It also has chrome and firefox extensions. Also, there's no limit to simultaneous connections.
Also, Check-Out: Best VPN 2023
Surfshark VPN Review 2023 – Features, Plans & Pricing

Surfshark 83% Off VPN Coupon
Up To 81% Off 2-Year Subscription | 4.3 (TrustPilot) | Support Protocol 256-bit AES/OpenVPN, IPSec & IKEv2 | 30-Day Money-Back Guarantee | Support Unlimited Devices
$12.95 / mo
Surfshark Features
It offers a bunch of amazing features to keep the user safe and private online.
Cleanweb feature:
A clean web feature blocks pop-up ads that irritate the user while surfing the net.
It discards suspicious links that may have a virus. These features also avoid phishing attempts and keep the user safe. With all these things mobile data usage is reduced to a great extent. Thus you are left with more data to keep you going.
Unlimited devices:
Surfshark allows you to connect multiple devices at a time. 
Also read, 9 common myths about VPN
Whitelist:
It is a feature that works on the split tunneling technology of Surfshark. In this, you can set specific apps or websites that are not allowed to connect to the VPN.
In split tunneling technology, two tunnels are made virtually. The first tunnel allows apps or websites to connect to the VPN. The second tunnel does not allow specific websites to connect to VPN.
No-log Policy:
Surfshark VPN doesn't keep track of online activity done by the user. This means it ignores
IP Address

History

Data Consumed

Time spent on a website

Traffic on a website
Kill Switch:
This is a very useful feature for people who deal with highly confidential data.
This feature works when the VPN connection drops suddenly without giving a warning. If a VPN connection drops suddenly it immediately disables the internet connection. Ensuring all the data remains safe and private.
Camouflage Mode:
Camouflage mode makes sure that even the internet provider doesn't know that you are using a VPN.
Multi-Hop Feature:
This allows you to connect to two different servers of different locations simultaneously.
This enhances your security and keeps you safe online.
No border Mode:
This feature allows you to use Surfshark VPN even in regions with restrictions.

Surfshark Review: Our Experience
Privacy
Surfshark VPN uses a private DNS network to secure its network. The multi-hop feature makes it even more difficult for hackers to keep users on track.
Also, it uses AES-256 encryption and a kill switch to keep your identity safe if an internet connection fails.
Unlike other VPN it has a no-log policy. It doesn't keep track of a user's online activity.
The company also claims to pass a security test by a german company Cure53.
In their test Cure53 found only two small threats and was highly satisfied with the software's protection.
Performance
It performed well in the performance test based on Surfshark VPN Speed. It got connected well in time and had no drops during usage. The VPN also had fast upload and download speed. It reduced the Surfshark VPN speed by 30% and download speed by a whopping 40%. 
Unblocking websites-
With Surfshark VPN we were able to unblock US content on Netflix. This test was done at 4 different locations where Netflix has put restrictions on US content. Youtube was the most basic to unblock.
Surfshark VPN For Chrome
Surfshark VPN is also available for chrome. You can use Surfshark VPN for Chrome Extension to mask your identity. You only have to do a Surfshark VPN download to get the benefit of excellent VPN service for your chrome browser.
Support
Surfshark has 24X7 online support that is available via E-mail and lives chat options.
It also has solutions to some of the common problems related to the setup and running of the software.
Plans and Pricing
Surfshark is available in 3 plans for different durations
For 1 month

12 months

24 months
The 1-month plan is available at $11.95/month. The 12-month plan is available at $5.99/month while the 24-month plan is available at $1.99/month. The company also offers Surfshark VPN Free Trial for 3 days. Apart from this Surfshark offers exclusive offers like Surfshark lifetime subscription few days a year. Never miss offer like that. 
However, the company also offers a 30-day money-back guarantee. By using Surfshark 90% off coupon, you can avail its cybersecurity benefits at a budget-friendly price.
Surfshark VPN Review 2023: Pros and Cons
Pros
Feature-packed

Unblocks Netflix for US content.

Pocket-friendly 2 year subscription plan

Quick live chat support 

Good Surfshark VPN Speed 
 Cons
Kill switch issues

Allow P2P from all servers

The trial version is not available for windows

The support website needs more solutions.
Surfshark VPN Review: Conclusion
Surshark VPN has a lot of features. No other competitor offers such features at the prices they are offering. Their 2-year plan comes less than $2 which is really cheap.it is a powerful VPN that offers unmatched performance. Though some issues need to be resolved. but the company always work to give their customer the best possible service as they can. Their customer support is quick to answer and doesn't seem to dodge the problems asked of them. In all, if you are looking for a reliable VPN to work with. Then Surfshark must be on your list. Do use Surfshark VPN Coupon to get exclusive deals.

Surfshark 83% Off VPN Coupon
Up To 81% Off 2-Year Subscription | 4.3 (TrustPilot) | Support Protocol 256-bit AES/OpenVPN, IPSec & IKEv2 | 30-Day Money-Back Guarantee | Support Unlimited Devices
$12.95 / mo