Finding the most affordable domain name for your website? Well, you are in the right place. In this article, I am going to mention the top 5 companies that offer a domain name at a very affordable range. You can get $1 Domain Name for your upcoming projects. There is a number of people who wants to start their own website but they can not pay a huge amount for purchasing the domain name. For those people, some top companies offer $1 domain name plans & help them to purchase their dream domain. 
What is Domain Name?
Domain Name is a name that defines the address of your website. In simple words, a domain name is the name of your website that is used to identify the address of your site over the browser. It simply represents your identity over the Internet. A domain name is the first thing which you have to consider while starting a website.  Domain name deals with a number of domain extensions like-
.com, .net., .org, .site, .online, .website, .hub, .space, .edu, .co, .me, .app, .blog, .buzz, .gov, (country code extensions like .ca, .au, .de, .as etc)
There are numerous companies that provide Domain name in your budget range. We have listed the top 5 companies that offer $1 domain name so you can easily start your own website at a very low cost. These companies bring exciting offers on Domain names. Get the best 1 dollar & 99 Cent domain plans and build your own brand reputation. Let's take a look at the companies that offer pocket-friendly domain names.
BEST $1 DOMAIN NAME COMPANIES
Namecheap 99 Cent Domain Name

Hostinger 99 Cent Domain Name

GoDaddy $1 Domain Name

Hostgator $1 Domain Name

IONOS 1$ Domain Name
Namecheap 99 Cent Domain Name
Find your perfect web address at the best price with the most popular domain name provider- Namecheap. The company is very famous for offering pocket-friendly TLDs. The company is providing a Namecheap 99 Cent Domain Name which is less than $1 domain plans. As if that weren't enough, the company also provides free WhoisGuard Privacy Protection for life so you can keep your private data hidden from the public Whois database. Plus, get two free months of Private Email to manage the new email addresses you set up.
Get the special discount on the popular domain extensions offered by Namecheap like .online, .site, .space, .fun, .pw, .press, .host, .club, .website and many other. Buy domain name with any of these extensions only for 99 Cent. 
Hostinger 99 Cent Domain Name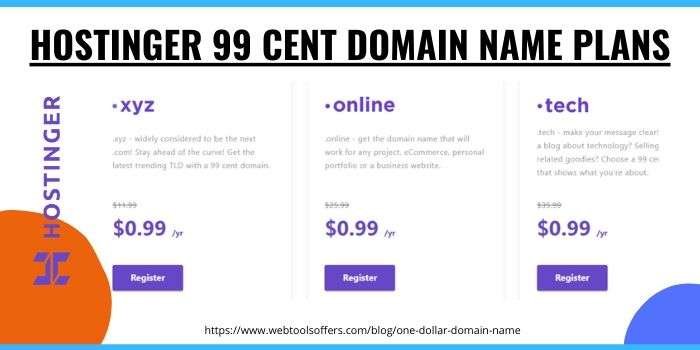 When it comes for affordable domain name & hosting services we can not miss one of the most popular hosting company- Hostinger. Hostinger is well known for providing affordable domain name service. Since 2004 the company id delivering quality domain name services to its users. The company deals with best and pocket-friendly domain names. 
Hostinger offers the most popular TLDs at the best price. You can choose any domain extension which you want to purchase. You only have to pay 99 cents for a particular domain name. Hostinger 99 Cent Domain Name plan is similar to 99 cent GoDaddy Domain name. You can also get your money back in 30 days if you do not get the service that the Hostinger promises. 
GoDaddy 1 Dollar Domain Name 
GoDaddy is one of the leading domain and web hosting providers worldwide. The company is trusted by 17 million customers more than any other domain registrars over the world. GoDaddy offers Award-Winning 24/7 support help to build your own website. The company always offers some special deals and plans for its users. You can get big savings with GoDaddy over other domain registrars. 
The company provides the most affordable plans to make you avail the best domain and web hosting deals. Recently GoDaddy offers 99 cent domain name to its users. GoDaddy 1$ domain is the best plan that the company ever provided. Get all the extensions and you only have to pay $1 for .buzz or .space domain extensions. The company deals with every domain extensions you can get any of them and build your own website. 
Note- GoDaddy $1 domain name is only available for .buzz or .spac domain extensions. After purchasing a domain name you need to purchase web hosting. Now the company has brought you the latest discount on web hosting. Get $1 web hosting and it includes Free domain name. Now you do not need to pay extra for the domain name. 
Hostgator $1 Domain Name
As we all know Hostgator is one of the biggest and leading company of web hosting. When it comes to the pocket-friendly domain names Hostgator is always in the top list. The company provides all TLDs at an economical price to help you to build a website at low cost. Recently the company is offering .site domain extension at $0.95. But the company also provide huge discount on .com and other TLDs. 
Whether you are building your very first website or simply searching out new domains for your existing site, Hostgator is always here to help. With Hostgator $1 domain name, you can register the perfect name for a whole lot less than you may have thought. Hostgator $1 Domain Name lets you make a unique brand name at a pocket-friendly cost. The company gives you the opportunity to build a professional website with a low budget. 
IONOS $1 Domain Name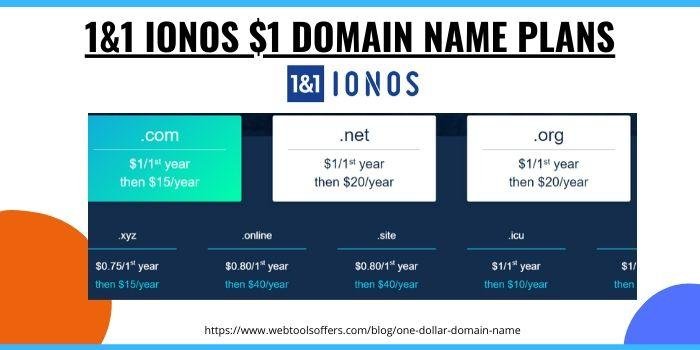 IONOS is one of the most popular web hosting company in the world of web hosting. The company offers great web hosting and domain features with affordable plans. 1&1 IONOS is the most reliable and trusted web hosting and domain name provider. It deals with a number of domain extensions like .com, .org, .net and many other. You can get any of the domain extension for only $1/ year with IONOS. Register your domain with IONOS and get the benefit of its comprehensive features. Choose from a variety of popular domain extensions for just $1 that will give your website instant prestige and visibility. 
Grab the latest IONOS $1 Domain Name offer with the company and build your online brand by getting a memorable domain name that sets you apart from the crowd. 
Conclusion
Purchasing a domain name is the first thing for starting a website. There are many people who want to start their own website but financially they are not able to purchase it. That's why these top companies are offering $1 and 99 Cent Domain Name so that you can easily buy your ideal domain name at a low cost. Hostinger and Namecheap are the companies that are offering huge discounts on its domain name services as they provide top-level domain names at 99 Cent only. But after Hostinger & Namecheap $1 IONOS and $1 Godaddy are also a better option for purchasing your dream domain name. Find your ideal domain for less than the price of a coffee.