McAfee Review 2023: Is It Best antivirus for PC?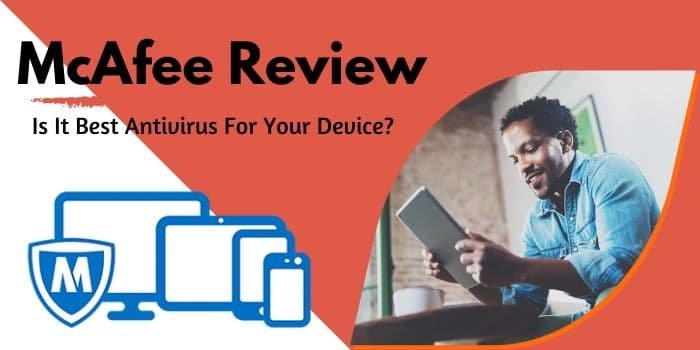 When we talk about the best antivirus for pc Mcafee has made its name in the sector. According to OPSWAT Mcafee holds a 12.68% market share. Initially, most of the devices come preloaded for free. A fee-based registration becomes necessary after 3 months. Now at this point, many people get confused about whether to buy the registration or not. To solve your confusion we have written a McAfee Review 2023 for you. 

McAfee Products & Services
Total Protection
It is a complete security solution for your devices. It comes loaded with a lot of features and that too at affordable pricing. The best part is you can link up to 10 devices in this suite. That's great, Isn't it? But… there's a drawback to the simplistic design that often makes the people believe they are fully protected and need not do anything else. But that's not the case a user needs to set up features such as antispam manually as they are not activated by default. The plan for this product starts from $34.99*. If you want to know about this product in detail then you may check our McAfee Total Protection Review 2023.
Livesafe
It is almost similar to total protection and offers nearly the same features as in total protection. The only thing that makes it different from total protection is that a user can contain unlimited devices in this plan. This product comes for $44.99*
Mvision for Enterprises
It is a suite that is specifically designed by McAfee for big enterprises. Mvision is ideal for enterprises that deal with confidential data. It provides various security solutions to companies. That involves the use of AI. The best feature of this product is that it works on the cloud as well. 
McAfee Total Protection Coupon Code 2022
Get £60 Off McAfee Total Protection Coupon Code and grab the latest McAfee Discount for evey countries and languages
£89.99
McAfee Review 2023: Features
As per McAfee Review 2023, its total protection and Livesafe McAfee offers the following features
McAfee provides an award-winning antivirus that protects your device from viruses, spyware, ransomware. This antivirus has 2 scans full scan and quick scan.
Performance Optimization tool
This was a much-needed feature from McAfee. This reduces the background activity of the device and gives the user a seamless experience. This makes the device work as if it is new.
Home Network Security Firewall
McAfee provides a 2-way firewall. that monitors both incoming and outgoing traffic. Also to add to this firewall is user-configurable.
The company offers online support to all its customers. However, this support is not available by email. It is only available via phone call or live chat.
Multiple device Compatibility
 A single product can run on different devices. Be it pc. Mac or smartphone. McAfee has extended its support to all. 
With this McAfee has solved the problem of keeping passwords at different places. This password manager allows you to store all your passwords at a single location that to password protected.
this feature alerts the user of risky sites. This solves the problem of entering into malicious sites and getting your device infected.
This deletes sensitive files that are no longer needed by the user. Without leaving any digital footprints. This is an essential step to stop hackers from stealing the user's data.
McAfee offers to store your data in a 256 bit AES encrypted format. This lets the user keep their files private on their PC.
Identity Theft Protection
This feature has been introduced to stop hackers from digital identity theft and also offers recovery tools in case your identity gets stolen.
Connect all your devices .it also offers parental control features that let you take control of what type of content should be displayed to your children. You can also set up the time limit to the time spent by your children online.
For total protection, these features depend upon the plan that you choose.
What makes McAfee different?
There are various security suites available in the market like Norton, Kaspersky, Vipre, and Bitdefender, etc. Everyone offering plenty of features. 
So what makes McAfee stand amongst them all?
It is their competitive pricing. Not only McAfee offers a lot of features but also multi-device compatibility at the same time. Also, McAfee provides an award-winning antivirus that has been tested by various reputed test labs. This is a big factor that makes the user trust the brand. While other brands offer their features in parts in their different products. It offers them in a single suite that too at prices lower than others.
McAfee also offers a 30-day money-back guarantee and 24X7 support that makes it a competitive player in the market.
McAfee Review 2023: A look at the lab test results. 
Various third-party labs regularly check various antivirus software in the market at a regular interval of time. AV-Comparatives one of the most reputed virus detection labs tested McAfee. In their test results were as follows 
McAfee antivirus performed remarkably in traditional virus detection tests. However, in real-time threat protection, it did not stand up to the mark but was still competitive.
But McAfee has a history of being quite inconsistent. Earlier around august, it ranked #5 with 100% protection but later on dropped to #14 after a few months. Now it ranks #6 with a 99.6% protection rate. In the same test, Avira and Kaspersky have a 99.7% protection rate.
In tests by AV-Test labs, McAfee outperformed all with a 100% protection rate i.e. it blocked all the potential threats.
McAfee Review 2023: Pros and Cons
Pros
Quick scanning

Customer support

Value for money

30 days money-back guarantee

Easy to use antivirus
Cons
No Vpn support in total protection

Makes the system speed slow
Read about 5 Antivirus Softwares with VPN
According to our tests and tests conducted by third-party labs. McAfee has shown and proven why it is a market leader in the cybersecurity field. With internet security solutions for everyone, it finds its place almost everywhere. McAfee has been continuously developing it is not the same as it was in 2016. Recently it took a tap on various affiliated websites that posted negative reviews about its products and tried to tamper companies' reputations. McAfee also tied up with hp to provide free antivirus for 3 months on all its devices. Talking about its performance, it makes the system a bit slower but not like its competitors. Moreover, the prices at which it offers its features make it stand out from the rest of the others in the market. 
According to our McAfee Review 2023 if you want reliable, secure, and value for money protection for your devices. Then you should definitely go with McAfee without giving it a second thought. 
McAfee Total Protection Coupon Code 2022
Get £60 Off McAfee Total Protection Coupon Code and grab the latest McAfee Discount for evey countries and languages
£89.99
Also Read,