Malwarebytes Premium Review 2023
Online threats are increasing day by day. New viruses are being spread very often in the digital world. People are getting trapped in new online scams. From zero-day to coronavirus malware cyberattackers have come a long way long. With attackers evolving regularly, people also need to adopt the latest and best antivirus for their devices. There are many antiviruses available in the market that claims to be the best of all. Malwarebytes is one of those. We tested the Malwarebytes product personally and have written this Malwarebytes Premium Review to share our experience with you. 
What is Malwarebytes?
Malwarebytes is an antivirus software developed by Malwarebytes inc. for windows, mac, android, and ios. It is a cybersecurity company with offices located in California, Florida, Estonia, and Ireland.  This product is available in two versions free and paid.
Malwarebytes Premium Discount
purchase Malwarebytes premium for 2 Years and get 20% Off with Malwarebytes Disocunt Code
$79.98
In 2016 Malware bytes had launched its version 3.0. This version included protection against malware, ransomware, exploit, and suspicious websites. Recently, latest version named Malwarebytes Premium 4.04 was released that featured a new user interface and the katana engine.
The free version of Malwarebytes provides basic antivirus protection that offers to scan your device. The user needs to manually scan the system. Initially, Malwarebytes started as free antivirus software. As it later developed it introduced Malwarebytes premium- the paid version of this software. 
Features: Malwarebytes Premium Review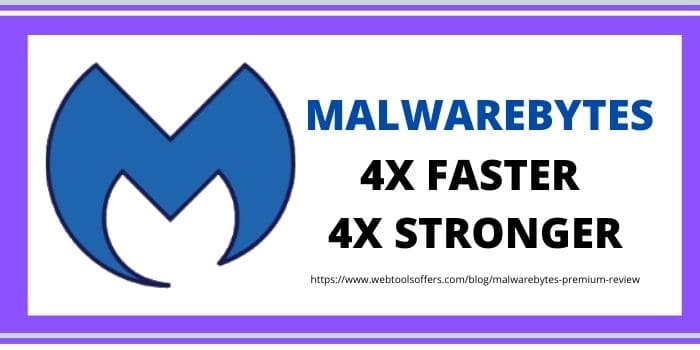 Realtime threat protection

Anti Exploit 

Ransomware protection

Protection from online scammers

Performance optimization

Katana engine
Malwarebytes Hands-on Experience
Malwarebytes Premium Discount
purchase Malwarebytes premium for 2 Years and get 20% Off with Malwarebytes Disocunt Code
$79.98
Antivirus Performance
The free version of this software does not match the performance of top antivirus software. But the additional benefit we get from this is that while scanning if malware escapes from primary antivirus. That malware can get caught by this Malwarebytes free antivirus. Malwarebyte antivirus uses behavior tracking to scan for new malware and threats. These malware and threats are then sent to Malwarebytes servers to update their software accordingly. Malwarebyte uses a rootkit scanner to scan for deep file-less malware. This malware is often ignored by main antiviruses. But these have the potential to cause a major threat to the system. 
In our test, Malwarebytes anti-malware premium did not perform up to the mark. Though it was able to detect dangerous apps and 2 malicious websites but showed false positives at a higher rate.
According to Av test labs, Malwarebytes has a  success rate of 99.2%. This is lower than its competitor who scored 100% in the same test.
Security
Malwarebyte Premium features competitive web protection tools that protect a user from phishing scams and ransomware attacks. It looks for vulnerabilities in online apps and websites and alerts or blocks suspicious websites. However, in the various test, it proves to be a second reliable antivirus.
Performance 
Malwarebytes complete scan feature scanned over 1lakh files in a time span of 8 minutes. However, the quick scan scanned only the RAM of the computer and completed the scan in about 5 mins. The custom scan feature of Malwarebytes premium was useful as it allows scanning of a single drive only. It improves the scanning process. But this process was a bit time-consuming. Malwarebytes premium also has a play mode that provides a seamless gaming experience. This reduces the background activity of the system and also silences all the alerts and notifications from the system.
Interface
The overall look and design of Malwarebytes antimalware premium are simple but functional.
All the tabs and functionalities are available on the left side. All the operations regarding scanning and setting can be accessed through these tabs. 
Real-time threat protection is available only to Malwarebyte premium customers. Finally, the account section displays your license no. and links. The 'about' section displays the current version and useful links.
Support and Installation
The software is lightweight with a 60MB file. The total installation took around 10 mins. Also, the Premium version gets activated by using the product key.
Email support is available in the free version. For Malwarebytes, premium customers call, and live chat support is also provided.
Plans and Pricing: Malwarebytes Premium Review 
As far as the pricing is concerned Malwarebytes comes in 3 plans
Malwarebytes Premium Free

Premium for you

Premium for home
 In this, the Malwarebytes Premium free version has basic antivirus while the premium version replaces antivirus with a complete internet security suite.
The Malwarebytes Premium Cost is $29.99/yr and for premium for a home, it is $44.99/yr. You can also use Malwarebytes Premium Discount Coupon to get a high reduction in your actual price.
You can also get a Malwarebytes Premium trial for 3 days.
Malwarebyte has kept the pricing for its products competitive, which makes a buyer give it a thought to buy it.

Pros and Cons:
Malwarebytes Premium Review 2023
Pros
Good malware detection and blocking

Exploit protection and behavior tracking features.

Manual scanning is simple and effective

Competitive pricing
Cons
Below average third party test results 

Misses a lot of important features that rivals offer at the same price

The uncommon virus detection approach

Slow performance as compared to its rivals.
Is Malwarebytes Premium Worth it? 
Malwarebyte Premium comes with some unique features such as behavior tracking and webroots. No other company in this field offers these features. The free version of the software works fine with a primary antivirus. The primary version of this software opens the door to a lot of features. The only problem is that the prices at which it is available. At the same price, its rivals offer a hell of a lot of features to use in their software. Also, performance issues add to the low point of the software. According to our Malwarebytes Premium Review. The Malwarebyte premium can be best bought as secondary antivirus software. Its unique features of behavior tracking and webroot make it an essential must-have secondary antivirus software. For other product offers please check Malwarebytes Coupon Codes.